A Conversation with Lisa Unger
By Martha Haynes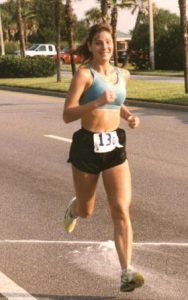 MH: Lisa, when I first met you, you were helping Julie Clark with a beginners training group. You were so enthusiastic and encouraging. How long had you been running then?
LSU: That sounds like about September of 1999. I had been running for about 15 months at that time and I think we were using the Springtime course to train for the Turkey Trot. It was to be my first 15k event. I turned 32 a few weeks after we started the program.
MH: How did you get involved in running?
LSU: I started running as a result of several factors. I went through some major life changes including a divorce and knocking a 15+ year smoking habit. Saturday at Rose City (April 28, 2001) was my third year anniversary as a non-smoker! Because of my divorce, it became necessary for me to move and to make new friends. I first witnessed the running community by watching a 5k and knew right away that these were the right people with which to associate. I attended a few more running events over the next few months but it wasn't until my husband and I started dating that I became interested in doing it myself.
MH: So you still remember the exact day you quit smoking!
LSU: On April 28, 1998 I stopped smoking for good and exercise was a great way to help alleviate the stress of that change. At first I used my rollerblades and skated laps around my neighborhood. That progressed to my first jogging attempts at Godby track in June of 1998. My running journal begins on July 20th, but I don't actually have an entry until July 23rd when I ran in the Summer Track series 2 mile event. The first time I ran 3 consecutive miles was on July 30th at Godby track and my first race event was the Echo 5k in August. I was second in my age group with a time of 27:48.
MH: Then, if my calculations are right, you were 31 when you first started running? Had you competed in any sport before that? Why did you think you wanted to run in a race, rather than simply run for fitness?
LSU: I guess I have to admit that my only prior involvement with any sport was as a spectator. John Bingham once described a running event by saying, "The miracle isn't that I finished…the miracle is that I had the courage to start." I can really relate to that because I believed I was not strong enough and that I would never be fit enough to compete in a sport, so I never even tried. When I started running though, I learned that strength and fitness are developed in stages.
A person does not necessarily have to be strong to start a program, but can gain strength by staying with the program. Seeing the progress along the way is a great source of motivation. That's one reason why I enjoy races. I find that participating in races–actually I prefer to call them "events" because I really only race against myself–is a great way to benchmark the progress of my running program. By recording and tracking the results of my "hard effort" at events, I find I am able to define the effectiveness of my training. The first two years or so very clearly show an overall improvement in strength and stamina. For example my earliest 5k attempts were run quicker in the first mile but significantly slower in the second and third miles –sometimes as much as two minutes slower for the last mile! As I continued to train, though, my splits became more even. Now when I have a good event, my miles are all within 10 seconds of each other. They are still not very fast miles, but they have become more consistent. I especially enjoy out of town events. Weekend get-aways with my husband in conjunction with running events have made for some great memories.
MH: You said that these were the kind of people that you wanted to hang around with. I think I know what you mean, but what is it that you like about runners?
LSU: Almost all of the runners I have met over the past three years share common traits that I respect, such as self control, will power, honesty and discipline. With only a few exceptions, the runners in our community have been very supportive and shown genuine caring for others. One thing that I find really neat about most runners is that they are non-judgmental. The elite athletes just as friendly to the mid to back of the pack runners as they are to their equals. So often in society and business there is a division of class. The wealthy associate with others of wealth and it is rare for upper-level management to interact with the rank and file. Not so with runners. Runners recognize that speed does not necessarily equal effort. I may be 10 minutes or more slower in a 10k, but I am recognized for working at my full capacity just like the overall winners. This attitude of "we're all in this thing together" coupled with being generally fun loving people, is why I have enjoyed befriending runners more than any other group of people.
MH: Do you actively train for a race? What does your weekly running schedule look like?
LSU: My weekly running has changed over the past 3 years. I started out running about 12 miles a week and now I average 27-30 miles per week. The kind of running that I do has also changed. At first, I just ran as much as I could with no real goal in mind. I recorded and tracked the distance I covered and the time it took each day and I compared day to day and week to week. But I never really set out with a particular type of workout in mind until about my second year.
I now set up my weekly training schedule to achieve particular goals. During this past fall and winter when the weather was cooler and most of the events were longer distances, I concentrated on longer runs. In 2000, I ran my first half marathon and my first worthwhile 20k (both are PR's at 2:02:54 and 1:55:58, respectively). My training was pretty usual. Some days I ran 5 miles at a comfortable pace, I did speedwork once a week and I did a long run once a week. Each week my long run got longer which culminated with my birthday in 2000 (September) when I ran 13 miles for the first time. That was in preparation for the Boston Mini Marathon. I continued this pattern throughout the winter in preparation for the Paris Mountain 20k in December and the Pensacola Double Bridge 15k in January 2001 (where I achieved my 15k PR at 1:20:34), but dropped my Sunday long run to 8-10 miles.
With the spring came the start of the 5 k and 10k season, so my training schedule has been altered to accommodate the different racing style. My current 5k PR is 24:03 and my 10k PR is 50:22. My training has been adjusted to accommodate the shorter races by reducing my long run to 7-8 miles and intensifying the Tuesday night speed-work to full effort every week. Also, my Monday and Wednesday runs have changed to about 80% effort tempo runs. To give an example, during the winter most Monday runs averaged about 50 minutes to more than an hour and covered up to 6 miles and Wednesdays were 5 miles at about 48 to 50 minutes. Now I run a 5-mile hill and trail course in an average of 45 minutes on both days. Thursday is still short and slow and Friday remains my rest day.
MH: Are there other runners who have influenced you?
LSU: Throughout all of my training I have tried to observe the style of other runners. I watch their posture and arm movement and in some cases try to apply their techniques to my own running. I fully believe that every person has to run in their own way that's comfortable for them, but you can learn alot from watching other people.
Some of the people that have impressed my most have been Kingsley Broughton, Sarah Docter-Williams, Kate Wallace and Jane Johnson. I admire these women a lot for their running abilities, but even more so because of the impeccable character that each one of these ladies exhibits. Kingsley and Kate are both young women who have shown character far beyond their years. They each have recognized the importance of being nice to everybody, even those of lesser talent. I was privileged to share Tuesday Speed-work with Kinglsey before she moved, and now have the same opportunity with Kate. It is incredibly meaningful when I hear (or heard) the encouragement given to me and the other "group three" runners by these elite college athletes who are not obligated at all to even know my name, but they do! Kim Winn also comes to mind along these lines, although I have had much less contact with Kim.
Sarah and Jane, and also Ann Bowman are role models to me whether they know it or not. I admire their ability to maintain such incredible athletic abilities while raising their families and careers. The amount of work required to be so athletic is awe inspiring in itself (I know because I watch what my husband does!), but to couple that with the multitude of other responsibilities in life is just incredible.
I am only just beginning to learn the history of running and especially of women's running, so I really don't have any have any professional running heroes. Plus, I think that professionals are great because it's their job. It's very respectable, but my heroes are great because they love the sport and they love the positive results for themselves and their families. There are so many other people that I admire and respect, but I've already been much too long winded.
MH: It sounds like running has really changed your life!
LSU: Because my husband is an elite athlete, running is a major part of our lives. It is an activity that we each have for ourselves and that we share. Most of our weekends are planned around racing and running. I find that our diet as well as our schedule is related to running. Basically, running is for Tim, and has become for me, our identities. As our family changes, our running habits may change too, but I believe we will always be a running family.