A conversation with Peggy Simpson
By David Yon
On October 27, 2001 GWTC member Peggy Simpson scampered over the Boston Mini Marathon Course faster than any 56-year-old woman has ever run that distance in the state of GeorgiPS: Peggy has been a member of GWTC since 1991 and has competed in the grand prix circuit since then, either finishing in the top five or winning her age group every year since except one. She finished in the top five overall in 1994, 1996, 1997, 1998 and 2000. In 1994 she was the GWTC Runner of the Year. Peggy and her husband Jim live in Pavo, GeorgiPS: On her state record effort she said: "Was a perfect day for running. You know how you can draw energy from certain people you run with? I seemed to be running on Gary's [energy]." The following is a wonderful insight into a special GWTC m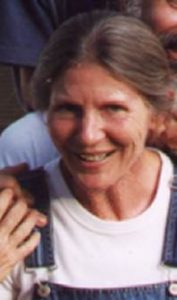 ember.
DAY: So, it appears congratulations are in order! Tell us a little bit about your race at Boston. Did you run an even paced race?
PS: I guess so … For me it was an even race of running till the energy wasn't there, then resting and picking it up again when I felt it back again. It comes in waves and definitely I had an increase in energy about mile eight when Gary Griffin and friends, came up behind me and brought with them some strong energy, which I seemed to need about at that time. Jamie Story helped start me out with a relaxed 7:25 pace. He's one of our Sunday runners.
DAY: Were you aware of the record during the race?
PS: No, I wasn't … just wanted to have a good time and do my best … love the cows on that course and all the positive runners! The out and back gives you the opportunity to connect with everyone and that helps me with my energy level. Everyone is so filled with inspiration and good will.
Peggy Simpson
DAY: Tell us exactly what the record was? How does it compare to the record in Florida?
PS: I really don't know what any of the records are, I think the 55-59 Georgia record was around 1:50 something (maybe you can look that up, and let me know).DAY: How long have you been a member of GWTC?
PS: Twelve years
DAY: A lot of us find our bodies are slower to recover as we age or get more miles under the belt. How do you deal with this feeling?
PS: Haven't noticed much change in recovery … but then I didn't start running till I was 45 and that is older.
DAY: Have you managed to stay healthy?
PS: Being healthy is a way of life for me. For the last 25 years I have lived a simple life … working outside, caring for our many animals, running, reading, meditation and hatha yogPS: I'm sure it's the recipe of all of these, along with the love and support of my family, that keeps me healthy and my energy in alignment and flowing without all the blockages. I must thank Jim for getting me started in this sport of running, which he loves, and now I sort of run for him.
DAY: Tell us something about your training?
PS: I have my social run and long run in Thomasville on Sunday morning. We try to get from seven to 10 miles in, depending on what run is coming up. Sometimes we don't make the run but at least we've trained for it. I look forward to this run and the friendships of this group of runners. Following this I rest for two days and then have a five-mile run on Wednesday morning on the loop at our farm. I jog for 1/2 mile then run a mile under seven minutes, usually 6:40 to 6:50 pace. The loop is 1 1/2 miles around. I run this same run on Friday morning.
DAY: How many miles a week do you run?
PS: Anywhere from 15 to 20 mi.
DAY: Do you do any cross training?
PS: No, but I would like to add biking at some point in my life.
DAY: What are your PRs for various distances?
PS: 5K, 19:54. 10K, 42:00. Half marathon – 1:35 and change. Ten Mile Challenge 1:10:53. Flash 12k, 51:43. I ran the Pine Run 20K in approximately 1:31:20. I have only run one marathon so far (for fun not time) in 3:54.
DAY: Do you enjoy running?
PS: Yes, I do love running. When I run, I feel like a child again … light and full of energy … although I'm sure it hasn't always looked that way when you've seen me finishing a race!
DAY: What keeps you at it?
PS: It cleans away all the stresses of life, and impurities of some of the food I eat, and keeps my body, mind and emotions united … Forgot to mention two things that I love about running … two important things … As you all know, I'm not the most social person but when I run, I never stop talking, and I feel so free in the beautiful outdoors, the air and sun charging me with electricity and life.
Last note: Well, Peggy you are certainly an inspiration to all of us. Keep up the great effort and we hope you see lots more records.