Breakfast on the Track – From My (Ad)vantage
Bonnie Wright, Photo by Fred Deckert
I have a different view of the race in my tucked away corner compiling results, hoping that I don't make a mistake, being guided quite ably by Judy Alexander, a long-time volunteer at the Breakfast, and helped tremendously by Paige Parker, a newcomer to scoring and mother to 2 young first time racers at BOT and wife to Rick a sub-7 racer.
I do wish I could see the effort that our mid-age runners put in during the race to hold off the younger set. It's not just in the first heat where Michael Martinez, our overall winner was separated by only 3 plus seconds by Patrick Swain, a 14 year old More Otter club runner who also runs for Maclay High School. You also see this in later heats such as in heat 5 when JoLena Pace held off 2 twelve year old girls, Brady Kidd and Lindsey Welch. These young runners compete with Gary Kenney's club, the Rams.
I don't observe the decision making when the runners sign up in heats, but I am frequently surprised to find the times in two different heats can be very close. Marshall Hendlin running in heat 5, Lisa Unger in heat 6 and Megan Gladden in heat 7 were only separated by 1 second when you look at the finish times. I wonder what would have happened if they had all been in the same heat?
If Felton would trade jobs with me and let me have the easy task of letting being at the finish line, I would certainly stand in awe our great finish line crew of Bill Lott, Tom Perkins, Jane & Brent Johnson and Kyle Goller.
The race is not over after the runners exit the track and the next heat begins. The path to the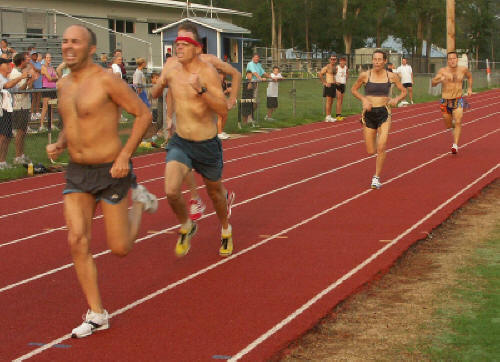 Pancake Hut must be just as competitive as Beth Wright, Jerri Hanna, Linda Goller and Karen McBroom are in constant motion with batter, blueberries, butter and watermelon served up to runners, families and spectators.
And what is a little clean up without Mary Jean and David Yon to pitch in to the last minute. As I finished double checking the results later in the afternoon I'm reminded of the gratitude I have for Gary Droze for allowing us to use such wonderful facilities and for mentoring so many of us as runners and people.
Thank you for coming out to run or help with the GWTC Breakfast on the Track.