Did You Know?
David Yon, January 11, 2021
Gary Droze passed along the following information. The Boston Athletic Association (BAA) elite team will be doing 3k/5k/10k time trials at the Maclay School track at 2:15 p.m. Saturday, January 22, 2021.  Highlight event will be Erika Kemp – 2019 USA 15K National Champion (she won the Jax River Run) – attempting to go sub-9:00 in the 3000m.  That would equate to a 9:35 2 mile.  The BAA coach told me they would appreciate support from the bleachers (socially distanced, of course).  So, put on your mask and wash your hands, grab your camera and come on down.

In preparation for the upcoming 30K-15K races coming on January 16, 2021, members of GWTC went to Old Centerville Road on Saturday the 9 of January to pick up trash from the road ditches.  Old Centerville Road is designate a "Canopy Road" and is surrounded by massive old oak trees, beautiful plantation lands, lush forest land and trash.  The trash is totally out of character for such an otherwise beautiful place.  Race directors Jillian Heddaeus and Zach DeVeau organized the second annual cleanup effort. With a crew o5 20-25 members they filled a large dumpster and had enough extra bags left over for many participants to take one home.
On the other side of town at the same time a smaller but enthusiastic crowd gathered at Lake Elberta Park to tackle the trash that mars the visual sensation that most people experience with a quick look at the park. Lake Elberta is a critical part of the area's storm water systems, helping trap waste and protect the underground aquifer.  Nancy Stedman has for many years organized clean up days for Lake Elberta, often in the same day as the nearby Palace Saloon 5K. On this day, her group of 6 filled up 24 bags of trash.  It is more than worth the effort if you are familiar with the lake which the Apalachee Audubon described as "one of Tallahassee's best kept birding secrets." Nancy's report said they spotted a wood stork and an otter. For more on Lake Elberta check this out.
January 3, 2021
Kyra Swart, a very talented 13 year old runner from Tallahassee's Dearlake Middle School, got her 2021 indoor season off to a great start on January 2, in Birmingham. Alabama at the Hoover Alumni Invitational winning at 60 meter indoor hurdles race division 13-14 year old division her time was 9.13.  She also ran a 400 meter race at the meet in a time of 1:00:44, finishing second, and a 200 meter race in a time of 26.88 for fourth place.  Thanks to Allen Blay for keeping us "In the Know."  I should finish by adding that middle schools in Tallahassee do not have an indoor track schedule that I am aware of and Kyra was  competing unattached.
December 21
Did You Know that there are Eastern Mud Snakes in our local parks? Camilla Schaefer found this one on the Lake Overstreet Trail.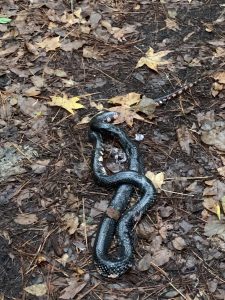 December 17
Did You Know that the Tallahassee Democrats 2020 Girls Cross Country Runner of the Year is Lillian Unger.  She finished 4th at the state cross country championships leading her team – the Leon Lions to a  second place finish at the state cross country meet in a time of 18:31.10.  It also just happened to be a PR. More on the winners at https://www.tallahassee.com/story/sports/2020/12/17/all-big-bend-xc-leon-sweeps-runner-year-honors/6449757002/
Congratulations should also go to the Boys Cross Country Runner of the Year – Jacob Rogers. The coaches of the year, Angie Milford, Maclay Boys and Andrew Wills, Leon Girls
December 10
Did you know new officers and directors for GWTC were announced on Wednesday?  Congrats to the new team – President – Mark Priddy, Vice President – Heather York,  Treasurer – Peg Griffin, Secretary – Brittney Barnes, Race Director Coordinator – Mary Jean Yon,  Social Director – Vicky Droze,  Directors at Large – Judy Alexander, Herb Wills, Jerry McDaniel, Charlie Johnson, Tom Perkins, Gary Johnston and me.   Paul Guyas will remain on the board as past president.
Did you know it is a real race!  The 30K is a go.  Race directors Jillian Heddaeus and Zach DeVeau presented their COVID-19 Plan to the GWTC Board last night (December 9, 2020) and the board, after considerable discussion approved the plan.  The race will be capped at 150 runners.
December 4
Did you know that Fred and Margarete Deckert celebrated their 63rd anniversary on November 28?  They were married on November 28, 1957.
Did you know that in the 2019 Turkey Trot race, with more than 5,000 registered runners and participants, Turkey Trot Heroes donated $8673.88.  This year Turkey Trot had 1564 participants and 248 of them donated $9534.  These donations go directly to the charities Turkey Trot benefits. Runners can designate one of the three entities to receive their contributions or can ask their contributions go to all three. $3,347.33 went to the Kearney Center, $3,407.44 went to Refuge House and $2,779.33 is designated to the Boys and Girls Clubs of the Big Bend. These funds are in addition to the race proceeds that will be distributed.
Did you know that there is a good chance the 30K/15K will be run as a live race?  the race directors are determined and the GWTC Board will be listening on Wednesday.
And last – for now
There is a new sheriff in town – Jenna Hutchins ran a National High School cross country record for 5K. She was recorded crossing the finish line in 15:58.42, reportedly the first high school girl to go sub 16:00.