Into Every Race a Little Rain Must Fall – But Not too Often
David Yon,
The FSU football game on December 3, reminded me a bit of Thanksgiving. It was a time to forget what has been another troublesome year and find a safe spot to hide in where people could just enjoy being together with family and friends while running, sometimes very hard and well, sometimes just walking and laughing.
There was something eerily familiar with the Wednesday night scene – a small group huddled together on the Turkey Trot race course discussing whether to mark the course with chalk, given the weather forecast was predicting rain (as high as 90%) through the night and into mid-morning on Thanksgiving Day. In 2007, the heavens really opened up (Into Every Race a Little Rain Must Fall). With crowds the last few years of 5,500 to 6,200 runners and walkers covering four different courses, it has gotten progressively more difficult to make sure they all run the right course with minimal chances to run into each other, or at least have the correct information to do so. Normally, we mark the course with chalk dust, post a directional sign at confusing turns, separate runners with cones and tape and ask volunteers to protect runners at corners.
Unfortunately, none of these aids are foolproof. Rain washes chalk away and is just one of the things that might cause a volunteer to stay home. Arrows and signs disappear and don't always provide clear direction anyway. So as the rain began to fall steadily, reinforcing the weather predictions of rain through the night and well past the start of the races, it made sense to avoid wasting time and energy chalking the course. Historically, rain has rarely visited on Turkey Day in Tallahassee, but that didn't matter much while we stood waiting for a down poor.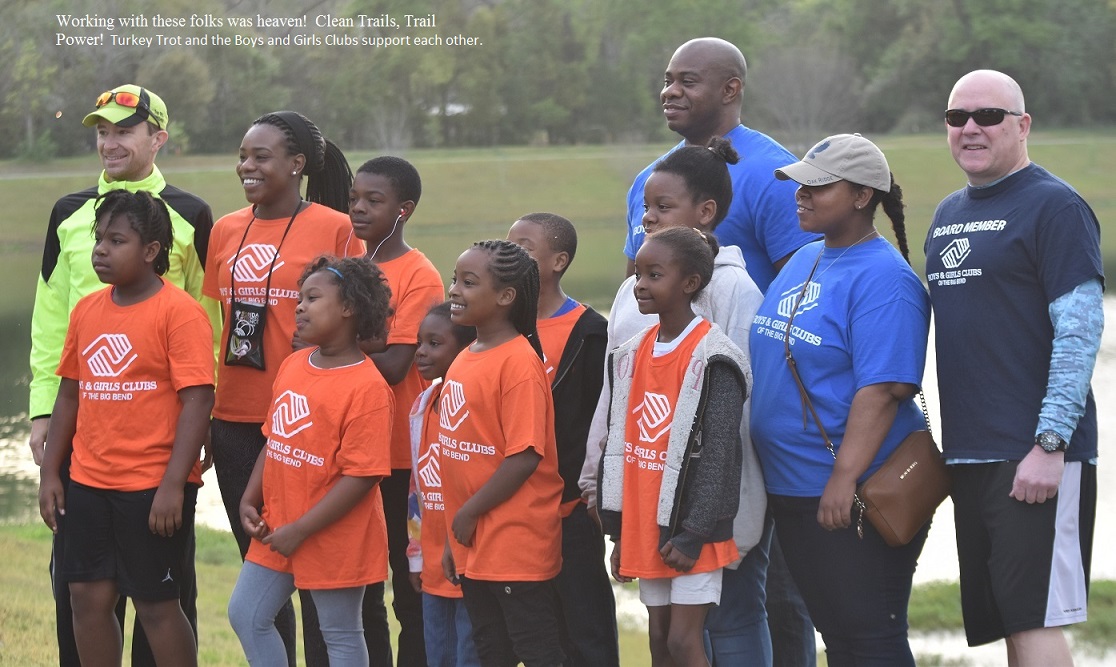 But Bill Lott, Tom Perkins, Bill McGuire, Jeff Nielsen and I don't really know what else to do the Wednesday afternoon and evening before Turkey Trot. While Mary Jean and a crew of registration volunteers handle the crush of day before registration we go move equipment and cones setting things up for the next day.
That usual last day registration crush never came though. And that rain? Well, it never fell hard enough to wash away the chalk marks or to keep the volunteers away. But I suspect it kept many of the missing 1,500 runners and walkers away. We had the smallest number of finishers since 2009 when 3,687 crossed the finish line.
There are reasons other than the rain that probably contributed to the smaller crowds. The Leon County public schools were closed the entire week of Thanksgiving and the FSU-Florida game was in Gainesville so for many people it was a perfect time to get out of town. Most years I think we benefit from more people coming to town for Thanksgiving than going away. I worry some that last year's record size crowd may have scared a few people away this year too. We will be working hard as the year goes by to make sure we can accommodate the needs of all size crowds.
The course volunteers that Sondra Lee, Mike Savage and Charlie Johnson worked so hard to recruit mostly came through. Representatives of the Boys and Girls Club of the Big Bend, The Shelter/Kearney Center and the Refuge House all proved they have a lot to give, hopefully matching what they will receive. There were many other special groups who deserve a big thank you. The Rickards Key Club was there for at least their fourth year.
And perhaps, the most special group this year was the Wakulla High School Cross-Country team, including Greg James and Mike Martin. Not surprisingly, they were willing to go the extra mile just as their coach Paul Hoover taught them to do. We remembered Coach Hoover's kindness and caring, when his wife, Myrna rang the bell to start the 5K, 10K and 15K races. Paul's life touched an amazing number of the runners in the Thanksgiving Day crowd.
We also celebrated the first birthday of one GWTC's newest members, Rhys Scharlepp. His parents, Rachel and Zack, wrote a beautiful piece for this year's Turkey Trot Magazine about his birth on November 23, 2016. Find it and read it if you get the chance.
That smaller number made everything else run smoother though. We still had 4,500 runners cross the finish line for one of four races. Probably 5,400 people registered. Last year there were approximately 6,200 finishers and 6,700 registered. So instead of running out of things, we had plenty of everything. And most importantly, there were a lot of smiles going around. None of the runners or volunteers who participated complained about rain. And while 4,500 finishers may have been quite a bit fewer than normal, that is still a lot of runners flowing over the finish line and a lot of great big smiles.
The race remains a labor of love from so many volunteers.
Thanks for being part of the 2017 Tallahassee Turkey Trot.
You can now go find your photos at https://www.backprint.com/enduranceimaging/143133.