The Magic! Mile
David Yon, with contributions from Mary Jean, Peg Griffin and Mae Cleveland, 
Rex had to have a smile on his face last Sunday afternoon, November 5, 2017. One hundred and thirty or so runners waiting anxiously for the start of the Magic Mile – a fast downhill mile – kept looking for the big yellow school bus carrying kids from the Boys and Girls Club who were looking forward to participating in this mile run. I like to start races on time, especially a mile race, so waiting was not my first choice. Somewhere though in my mind I saw this picture of Rex Cleveland shrugging his shoulders and saying, "Would you rather they not be here?" Of course not!
So, the bus finally arrived and 30 or so kids jumped off ready to run. The gun fired and a mile away Bill Hillison cranked up the timing equipment and Bill Lott readied the finish line. It would take less than 5 minutes for the winner to cross the finish line creating some unique challenges for the team.
And who would run the fastest mile on this day? The same person who, just a few weeks previous, completed the Hawaii Ironman in an amazing time of 9 hours and 47 minutes. Yes, Charlie Johnson crossed the finish line in 4:24, a personal best for the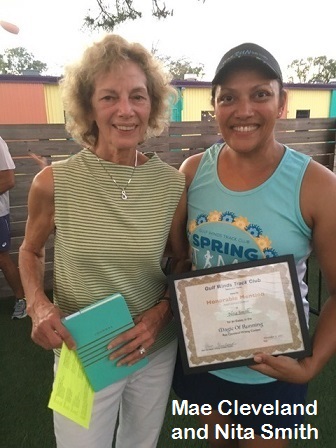 distance, and fast enough to give him the title in the second annual Rex Cleveland Magic! Mile. Yet another outstanding triathlete claimed the top woman's spot. Jillian Heddaeus rolled down the hill and across the Cascade Trail Bridge in 5:53. By the end, 162 finishers were recorded.
The GWTC Youth Striders were competing as well. Two schools earned financial support for their participation, Christ Classical Academy and DeSoto Trail Elementary School. Christ Classical Academy also won the fastest team competition.
Another unique part of the event was the writing contest. Participants were asked to describe "The Magic of Running" in 250 words or less. The winners of the writing contest were announced and those present were awarded with specially designed certificates, a writing journal (to keep on writing), and a special bookmark created by Cheryl Jennings for this occasion. The winners were all smiles as they received their awards and were introduced to the crowd. A complete list of winners with links to their entries can be found here. I heard more than one person say they would enter this contest next year.
Post-race activity included face painting for the kids, pizza and a GWTC social. Special thanks to Proof Brewing Company for donating space and making us all feel welcome.