Zack's Corner – It is where the prez speaks, tweets, whatever…
"My fellow Gulf Winders, ask not what your club can do for you, ask what you can do for your club."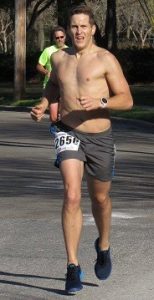 -Zack Scharlepp (with a little help from JFK). Gulf Winds Track Club President, 2017.
Cheesy?!?! Yeah, probably. Good thing I am not above begging because your favorite club needs some awesome people to step up and volunteer to help make next year's Tallahassee Marathon and Half Marathon an even greater success! This year's event was a phenomenal success, bringing positive attention to our great city and cementing Gulf Winds Track Club as a leading non-profit offering community betterment all while improving the the health of all of those who participate in our events. Ely Rosario, the marathon race director for the last two years, has decided to step down as race director moving forward. First, many thanks to Ely and her team for their tireless efforts bring the Marathon to the City. Second, while Ely will be missed, now is the time to continue to build on the good will we have created and move forward with an even better event next year.
To do that, we need a few committed volunteers. Do you have a burning desire to direct a marathon? Then you have what we need. Not ready to jump in without testing the waters; email me at zscharps@yahoo.com, for more information on how you can put your expertise to work. While all areas need to be covered, we are especially looking for someone to help with marketing & advertising as well as sponsorship generation and retention. If you have experience in these areas and have been looking for ways to get more involved with the Club then your time has come!