Travis Miller,
In an article that recently appeared on the Kansas page of Milesplit, high school coach Rod Murrow presents the idea that cross country is simultaneously irrelevant and valuable. Coach Murrow came to this realization as he assisted a young athlete with her overwhelming race-day anxiety. His article proceeds to explain the distinction he is drawing.
Perhaps to some raised eyebrows and questioning looks, Coach Murrow says race performances are virtually irrelevant. Sure, any competitor wants to run ever-faster PR's and finish higher on the podium, but things don't always work out that way. In the end, it doesn't really matter either way. The times and places that seem so important on race day gradually fade from memory. They aren't the measure of a person. As Coach Murrow explained to his parochial school athletes– St. Peter won't be standing at the pearly gates using race results and 5K PR's as entry lists (and hopefully he's right about that!). They just don't matter, at least as part of anything that truly matters.
What does matter— and what does last, are the experiences, the memories and the life lessons. Coach Murrow says cross country has provided valuable instructions throughout his own life– how to persevere; how to have integrity; and how to approach something with both passion and discipline. He's right. The sport teaches athletes how to have dreams and goals, and perhaps more importantly, how to respond when falling short of those goals or how to overcome obstacles getting in the way of the goals. There's a way to work, a way to win, and a way to lose. There's the shared struggle among teammates, and the triumphs and defeats, that create bonds that can last a lifetime.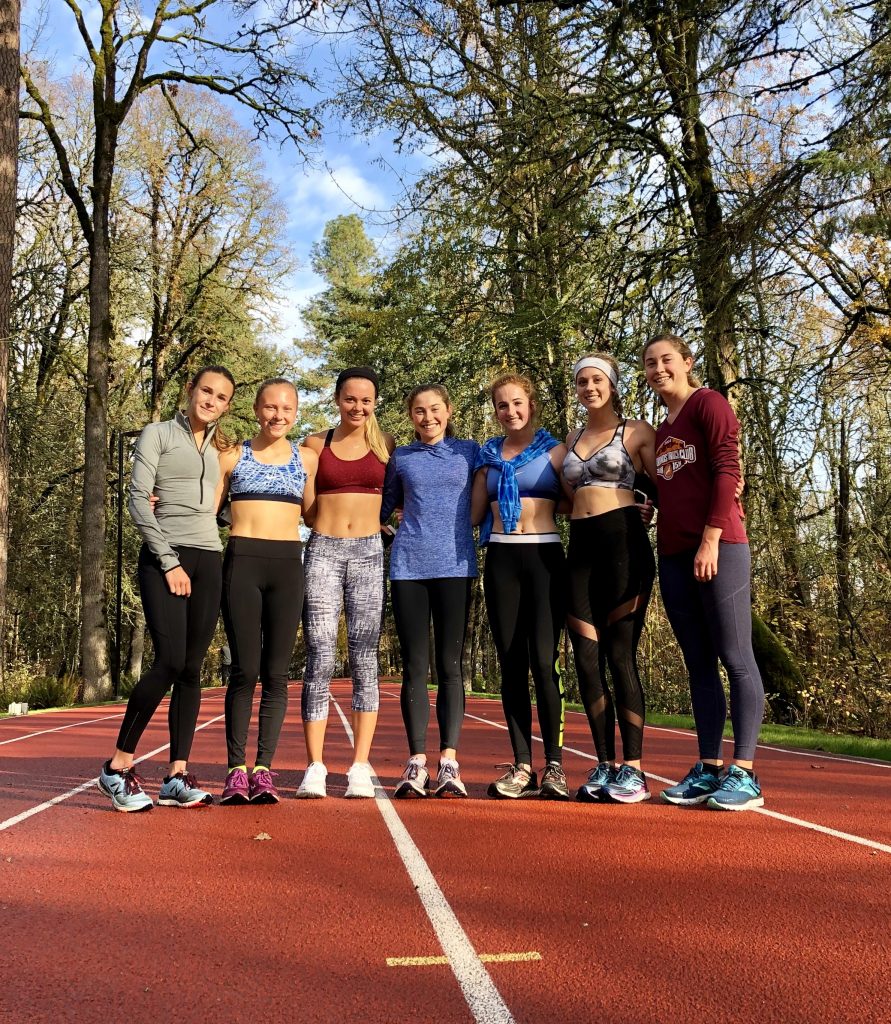 If the results ultimately are inconsequential but the lessons and experiences are invaluable, Coach Murrow reaches this simple conclusion: Every team, and every athlete, has nothing to lose and everything to gain. It's all upside.
The Chiles girls went to Portland this weekend with nothing to lose and everything to gain. The results of the 2018 season were already in the record books: an undefeated season, their third state championship in four years, and a #1 ranking in the southeastern United States. They've also created a lifetime of memories to carry forward. In Portland, the girls only added to this list. We can post the pictures and share the videos, but they only provide a small look at the experience. When else does a high school team walk into a room at Nike headquarters with strobe lights flickering, a bank of lockers filled with Nike gear, and an announcer on the PA system greeting them as the "champions of the southeast?"  When else do high school athletes meet with product representatives to give their feedback on future product designs? Or have dinner with Nike elite athlete and FSU alum Colleen Quigley? And then the next day have their hair braided with Colleen and see themselves on her Instagram account? Nike puts on a first-class event that truly highlights high school cross country. The trip to Portland was a great reward for a season well-run.
Now it is time to rest. The depth of the team allowed them to survive the rigors of the season. Their depth allowed them to advance through the state series and in the national events even when some of their hallmark consistency began to show small cracks as the season wore on. These girls are competitors. They're business-like, and they're tough both physically and mentally. They extracted everything they could from this season. After a short rejuvenation period, they'll be back. For some, "back" means a final track season. Their cross country careers are over, except in the legacy they're leaving behind. For others, they'll also be "back" next year as the 2019 Timberwolves– a new team with new goals and new memories to create.
We began the season with The Highwaymen playing on a seemingly endless loop at a camp in the mountains of Georgia. After a few notes, most on the team can sing the opening lines. But at the close of the 2018 season, do they know the end?
And when I reach the other side,
I'll find a place to rest my spirit if I can.
Perhaps I may become a highwayman again,
Or I may simply be a single drop of rain,
But I will remain.
And I'll be back again, and again and again….
That's it. The 2018 cross country season is now a collection of times, places and statistics that begin their steady march to irrelevance, but more importantly it is a collection of memories that will last a lifetime.
The 2018 Timberwolves had nothing to lose. They had everything to gain. And they did.
Editor's Note
Travis Miller has the good fortune of being Olivia Miller's father. Olivia is a senior at Chiles High School and ran for the cross country team. After winning another state title, the team won the Nike Southeast Regional Meet and accomplished something no other Tallahassee cross country team has ever not – qualify and run in the Nike Cross National Meet..
​Danny Manausa has been diligently working to launch our third running program for IRC children.  The plan is to start on Tuesday October 17 and run the program weekly until the week prior to Thanksgiving.  Meetup times will be at 6PM at Cascades Park. If you are able...