Yell "On Your Marks" and They Will Come
David Yon, Photo by Fred Deckert
Keep in mind that you can go to a meet at Mike Long Track for the FSU National Champion team and see fewer than a dozen or so spectators who are not either participants on one of the teams or related to one of the participants. So why in the heck would anyone think a track meet on a Thursday night in this town would work? Maybe the folks at GWTC and Tallahassee Parks and Recreational Department are visionaries or maybe they are just stubborn. But someone had an idea that "if you put on a meet and yell 'on your marks' they will come." And Wow has that ever been the case. Two thousand and seven was another outstanding year – maybe the best yet. There is no way to know how many show up for certain, but the meets start at 7:00 and don't end until well after 9:00. More than 80 registered for GWTC grand prix and probably 100 to 150 kids line up for the sprints. Parking at Maclay is almost as bad as downtown except everyone has a smile on their face.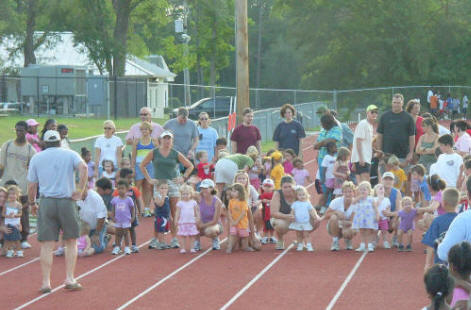 It all starts with the "little guys." Travel out to the Maclay Track on a Thursday night and you will see an ant colony at work. Kids running everywhere led by key worker ants who seem very content to make sure the nest is a good home – however chaotic it might be. It starts with the 40 yard dash (including the early heats known as the "diaper dash" championships). There is no telling which direction these kids might head or how long it will take them to get there. And every now and then someone starts crying when the gun fires; but they all find a smile when they reach for the ribbon on the other side of the finish line that means they are "competitors." They run in, wave after wave, on both the homestretch and the backstretch of the track. And after receiving their ribbons, they head for the infield to chase balloons, play tag, jump on the trampoline (normally used as padding for the high jumpers to land on) and get their faces painted. Remember when your parents (those of us old enough) used to say "go outside and play"? Well, there are no Nintendos here. There is fun and serious competition mixed in a great healthy outdoor environment.
Of course you can't have an ant colony without a queen. The patient, nurturing queen ant of this colony – for at least 17 years now – is Perry Shaw. Perry, GWTC's 2005 winner of the Cleveland Caldwell Award, is also the coach of the distance and cross country runners at Lincoln High School. He has track in his blood, having run distance for FSU (early to mid 70's when he ran somewhere around a 4:07 mile) and having coached it for more than 25 years. He is low key, but he is always there and things always work. And every successful colony has a tireless promoter. Tom Perkins has made sure this meet grew and flourished with his own persistent and tireless efforts. His voice booms out every Thursday night at the track and at GWTC board meetings and with the media and with anyone who will listen. He has picked this event upon his shoulders and made it what it is today. But this is a colony, it is not a free for all. And so you have to have the lieutenants that make sure it runs in an orderly fashion and that the ribbons are there for the kids and the grand prix points are accurately totaled. That is where Jeanne O'Kon, Lisa Unger and Allison Eagan excel. When the lights are out and everyone has gone home, they are still tallying. They make sure the ribbons get purchased, the awards ceremony succeeds and every participant feels special. It is a lot of hours! Of course it won't surprise you to know that Bill Lott is out there every Thursday doing his thing. This year Brian Corbin has brought a new sophistication to scoring the events. You will find Brian and Bill working together for endless hours to make sure the newest GWTC equipment is put to its best use. Another unique aspect this year is the great photo documentary by Fred Deckert. Fred has done a great job recording every meet this year.
It is all wrapped up for 2007, but the impact of these Thursday night events will last a long time. They bring generations of GWTC members together – not just parents and kids, but sometimes three generations. I have no doubt there will be dinner time conversations many years from now that start "remember when I first beat you in the 400 at Maclay…" And hopefully, the response will be – lets go out "this" Thursday and see who is faster now.