Send Me Back to This Prison Anytime Nico Wienders
September 7, 2014
I was sick yesterday and spent a lovely Saturday in bed. However, I knew I would get up today (Sunday), no matter what. And I would get up early. It is actually the only time I do not mind getting up early. It's a pleasure from the very moment the alarm clock rings. "Today" we are going to the Gadsden Correctional Facility (GCF).
"No words can explain" what we experience there. I am quoting Barbara McNeal and she is absolutely right. Nevertheless, I will still try.
Several times a year a small group from The Gulf Winds Track Club goes to the GCF to organize and run a 5K with the inmates, or run an interval session, or even a marathon! Today, fourteen of us participated, while 117 lady inmates and two GCF staff members ran.
Over the years we have gotten to know many of the detainees. This morning a few of them came to me and asked if I would pace them to finish the race in less than 25 minutes. This is usually what the GWTC members do; each of us finding one or more of the inmates to share the race with.
We started as a group of five and managed to stay on schedule until the middle of lap three. Rain had soaked the field where these races normally start and so it was decided the race would be five laps around the prison compound minus the field. Each lap was in fact bit longer than a kilometer and when I realized it, it was too late. I had probably pushed my companions a bit too hard too early. I felt terrible. (Web Editor's note – that was my screw up as I did a poor job marking the course.)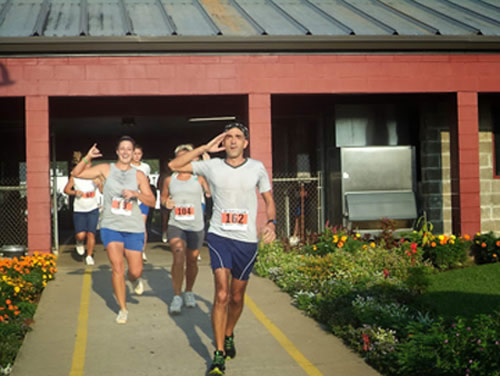 One inmate however kept going at the quick pace. She was running her first 5K ever and had barely even run that distance in training. On the starting line she had mentioned her anxiety, which was palpable. I am not completely sure why, but I decided to stay with her, to help her finish her first race. By the beginning of lap four she began thinking about giving up, repeating to me about every 10 or 15 seconds "I can't do this; I can't do this." I disagreed. A few times, she tried to stop. Or did stop. I disagreed. Each time we started back and kept going.  With 800 meters left, I told her it was time to start giving everything she had and sprint by the last curve and all the way to the finish line. "But I have nothing left" she replied. She thought it was true… "Yes, you do," I implored. When the last curve came she was flying. Flying. I have rarely seen so much persistence and will. And effort. She finished fifth overall.
Our little group eventually ranked from fourth to eighth. We started a bit fast. My fault. (Editor's note: Or maybe David's fault.) The course was a bit too long and I still tried to help you reach that 25 minutes goal. I am sorry. I rested for a bit and then caught up with another inmate who wanted me to join for her last lap. She was hurting, battling, in pain. A hundred times she cried: "I can't do this." Perhaps even more. We went at a very slow pace. She never stopped and hung on. When the finish line appeared in the distance, by the last curve, she was flying too. Her stride had quadrupled. I could not follow. Bryan Desloge who was trying to catch us with his group can testify. This is when I don't have any more words to describe what exactly happens when we visit the Gadsden Correctional Facility. It is every time incredibly moving to witness the inmates' efforts, struggles and finally successes. I cannot describe the joy we feel after each of them pass the finish line.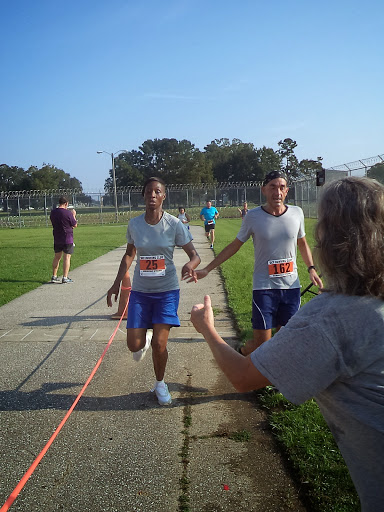 Over the years and months, we have observed the inmates training and progress. We have noticed how much these (not so) little accomplishments have helped some of them rebuild a sense of self-esteem and confidence. The first step is usually their new motivation and dedication to running, from which comes fitness. And eventually a renewed and justified pride. Even, in some cases, plans for new lives as personal trainers. Completing a 5k to finally get back to life. I guess this is what we do, helping a little bit via running. Our humble ambition is to help them fly to the finish line. But I think we can testify it also helps them to fly back to life.
I cannot describe the relationships that build with the persons we run with during our sessions. There is no way to put words on what we share and feel once the line is crossed. I cannot thank the inmates enough for the trust and faith they put in us. This is one of the most incredible emotions I know. This happens every time we visit the prison and to each of us involved in the program. And not only that, every visit always brings an accumulation of very special moments. Today for instance: inmates coming to ask about the best way to train and stretch, the picture taking sessions, the fruit distribution, Dana Stetson finishing a 5K with a cast on his foot, inmates running grouped together and singing to help one of them reach the line. People cheering and clapping and… smiling.
When the time comes to leave I often find myself shedding a little tear. That is when sweating profusely is convenient, nobody notices. On the way to the gate, until the last minute, the fourteen of us dragged our feet today. We want to make sure we said goodbye to everybody, and just to stay in a little longer.  As we summarized with David Yon and Dana, there is probably nobody slower than us to exit a jail. Or more anxious to go back. I will return anytime.
Once again, I want to thank the Gulf Winds Track Club. After all, I also just started to run not that many months ago and it was only because of the beginning running program. It feels just normal and fair to share and transmit all the help and support I have myself received. Thank you also of course to David and Mary Jean Yon for all the work they do and for allowing us to be part of that program with the GCF. Thank you to all the GCF staff. And thank you to all the Ladies. I know I always push you a little too hard… But you always make it. I am immensely proud of you, I admire you. I always think of you when I run.