It's Back - The Turkey Trot Festival Returns to Goodwood
Turkey Trot Festival at Goodwood Museum & Gardens – Nov 21!
The Turkey Trot Festival is back at Goodwood Museum and Gardens, 1600 Miccosukee Rd., Tallahassee. The Turkey Trot Festival has always been the most fun way to register for Turkey Trot and this year promises to be a good one after COVID shut the Festival down last year. Instead of fighting registration crowds on race day, sign up online and then come pick up your number and shirt at Goodwood on Sunday, November 21, 1:30 – 5:00 p.m. And a big thank you to Goodwood for becoming a Turkey Trot Sponsor.
You can have all this while you listen (at a reasonable social distance) to one of Tallahassee's best duos, Craig Reeder and Adrian Fogelin, aka Hot Tamale. They describe their music as follows:
We offer crowd-pleasing cover songs in multiple genres plus our own distinctive original songs in a variety of musical styles.
The Turkey Trot Festival also gives you a chance to meet our sponsors and beneficiaries. Thanks to both for being part of the Turkey Trot family. The main beneficiaries are, of course, the Boys and Girls Clubs of the Big Bend, The Refuge House, and the Kearney Center.
Our sponsors include Capital Health Plan, Inc, Tallahassee Primary Care Associates, The Church at Southwood, the Radey Law Firm, Premier Health & Fitness and Goodwood.
And don't forget, registration fees go up when the Festival ends.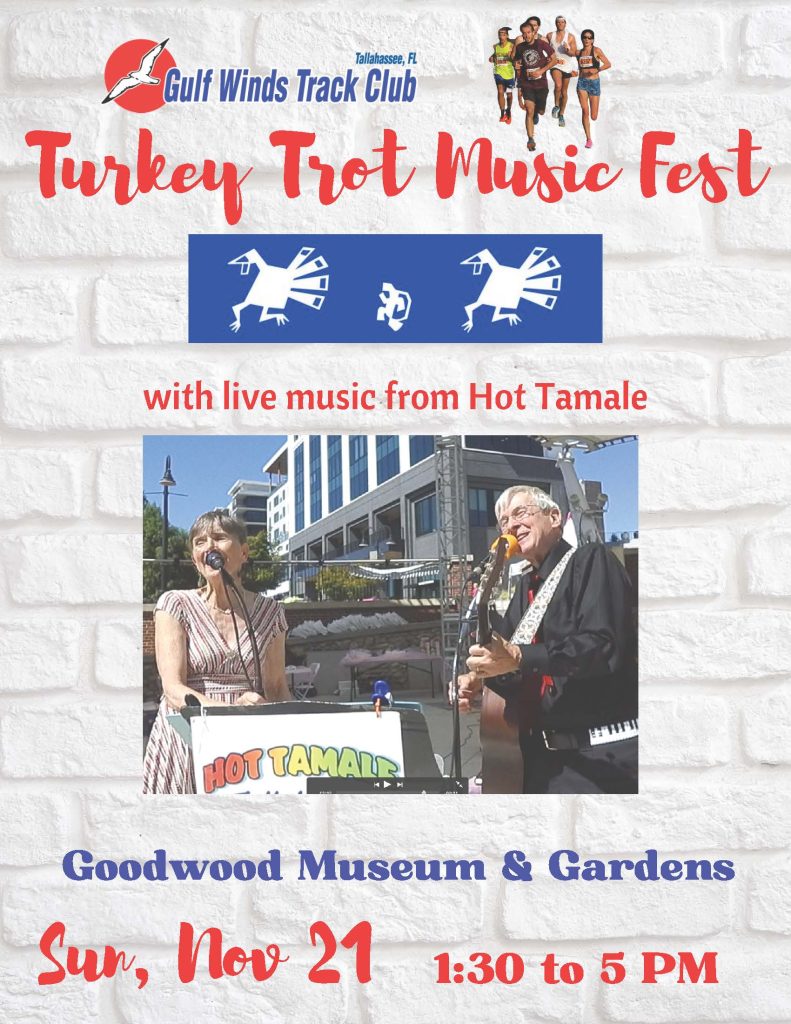 Have you ever run a 5000 meter (3.11 miles) race in 14:11.92?  For at least 99.5% of us the answer is no. It requires a pace of approximately 4:34 per mile. Well, Patrick Koon just did it. On March 14, he ran an indoor 5000 meter race at The Track at New Balance...