A View from the Top - Possibilities
Gordon Cherr, February 4, 2020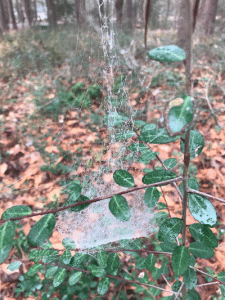 Possibilities.
The run this morning was a wet one. Not raining, not dry, but cool and damp and humid, and while not so cold, we could see our steamy breath in the dim shine of our headlamps. Sounds are muffled on mornings like this as we ghost along on silent slippers. It reminds me of nothing so much as running in those huge, wet snowflakes that would sometimes envelop me as I ran the big mountains in the Blue Ridge during a silent winter morning with roads and trails deserted.
But coming up the driveway my gaze inadvertently went down instead of up into the trees, and I saw an incredible array of funnel spider webs, here and there on the low shrubbery. Magical, mystical, incomparable art, no two will ever be alike, never, ever. Like clouds. Or ocean waves. It boggles the mind.
Call it the rationality or lack thereof that follows a perfect run and the evasive runner's high. A good reminder that possibilities lie everywhere, high or low and all around, if we remember to be open to them.
Good run, Mike.
Mark your calendars now for the annual Run to Posey's on Christmas Eve! As most of you know, this tradition has been around for more years than most of us can count and has continued long past the demise of Posey's Oyster Bar back in 2005 when Hurricane Dennis rolled...