A Conversation with David Yon
By Mary Jean Yon
David Yon – The Journalist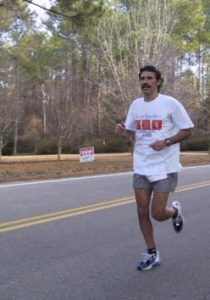 MJ: You seem to wear many hats in the community. Let's start off with David Yon, the journalist. One quick look at the GWTC web page tells us that you are a big contributor of articles and news stories for the running community. Tell us about that.
What fires that effort?
DAY: My first effort at "fun" writing was the Cat Bird Seat, the monthly president's column I wrote for the Fleet Foot while serving as President. I wanted something a little different, starting with the name…"The Cat Bird Seat." I enjoyed doing the column and it was a great way of communicating with people. Being President of Gulf Winds gives you a unique platform and special responsibility. Writing is also a good way to try to motivate and inform people. Maybe most important for me, is it is just a good way to express myself. A lot of times it is just easier to do it with the written word, than the spoken word.
Photo by John Kalin
MJ: One of my running buddies really enjoys your work and is hoping you'll write a romance novel one day. Any thoughts on taking on a bigger project…and not necessarily a romance novel!
DAY: That's definitely something that runs through my mind. I would like to write a short story one day. The hard part is finding the time and a short story seems like it would be manageable. But writing is scary in a lot of ways. Turning loose of things for everyone to see forever is frightening. But maybe someday I will figure out something for the web page. Maybe before the summer is out….
David Yon – The Runner
MJ: Looks like your times are starting to come down during your spring racing; starting with your 3rd place age group placing at Azalea Trail (37:14) and followed by a commendable effort the following weekend at Springtime (37:32); and not to mention your fast 17:46 at Rails-To-Trails!
Are things going according to plan?
DAY: Not really. I felt like Springtime was a step backwards. Maybe it is just age, but I don't feel like I am getting out the kind of efforts in races that I should be. I'm still working on getting back into racing shape but at least my training is going better.
MJ: Are you shooting for any particular race?
DAY: I was shooting for Springtime. Now I've got my fingers crossed for Rose City and then I'll be gearing up to run the Stockholm Marathon. I definitely think I can run better than what I'm running now.
MJ: What does a typical training week look like for you?
DAY: I rotate through a cycle depending on the time of year. Now, I usually keep a base of 55-65 miles a week for 2-3 weeks and then drop back for a rest week of 40-45 (or so) miles. I do speed workouts on Tuesday mornings and then another speed workout or strength workout on Thursday mornings. Long runs come on weekends and range anywhere from 1 ½ hours to 3 hours depending upon whether I'm in marathon training or not.
MJ: And certainly, no interview would be complete without the standard questions:
What got you started in running?
DAY: I guess I was looking for some sort of physical activity that I could do consistently. I was playing flag football, softball, tennis, etc. but they depended on weather and finding a partner (or a team!) and it was hard to use them to stay fit. Somewhere in 1983, I started dabbling in running and ran a race here and there and next thing you know…I was hooked!
MJ: What is it you enjoy most about this sport?
DAY: Running allows you to stay in touch with your center self. It gives you a chance to test yourself and to develop a good sense of what is happening in your body and mind. I often wish I had a recorder with me when I run cause I feel like I get lots of ideas for writing. Of course, sometimes after the endorphins are gone, the thoughts don't seem so great. Maybe most importantly, running helps you develop some great friendships and provides a wonderful social circle. Can you imagine life without our friends at GWTC?
MJ: Do you have a favorite distance?
DAY: No…I like them all! I have run everything from a mile to 87 kilometers (56 miles or so). One of my favorite events was the Maclayathon – our version of a heptathlon.
MJ: How many miles do you estimate you've run in your lifetime?
DAY: 44,500…give or take a mile!
David Yon – Community Guy
MJ: Your three years as GWTC President and eleven (plus) years as Turkey Trot Race Director have shown us the giving spirit that resides in you. Any thoughts you'd like to share with our readers on what motivates you in this area?
DAY: I don't know really. These are fun projects that involve good causes and people. I like to think that not everything in our lives is controlled by money and economics. So much of what we do, unfortunately, is driven by either our jobs or our monetary obligation. When you can get away from that and do things that hopefully make the world we live in a little bit better place it is a real treat. I believe, at the end of the day, we get back from life what we put into it. I believe I get more out of these things than I put into them. In the same way, I think GWTC gets back a lot when it reaches out beyond the "narrow" definition of what a running club might be and becomes an important force in our community. Turkey Trot has just been a great opportunity to give a little bit. It is a wonderful sight to see so many people on Thanksgiving Day in a good mood feeling like they have an opportunity to contribute to their community. And I might just add…we've barely scratched the surface with what we can accomplish with this race! Watch out for 2001.
MJ: We'll close with a question that I've always wanted to ask you! I couldn't help but notice that earlier this year when you won the Michael Caldwell Advancement of The Sport award, your awards presentation speech (which was exquisitely written by one of your peers!) included the following quote in reference to your ability to get so many things done: "He needs no sleep. I suspect he is an alien!"
My question to you is: Is that true and, if so, how do you do it???
DAY: Well…if I have one frustration that's greater than any other in life…it's that there's only 24 hours in the day! I know in today's world the popular mantra is to slow down but I guess I'm still more interested in burning the candle at both ends! It is hard to give away any part of the day; at least until the body tells you it is time to crash.