David Yon, with a lot of help from Paul Hoover
Every now and then you take a look at what you are doing – marking a course, worrying over details for a race, ordering trophies, working late at night to finish some GWTC project – and wonder "why?". And then there is one of those "moments in time" that bring it all home. Friday morning, GWTC member Doug Covert sent me the picture you see of Tyler Price. The picture comes from his PR performance (15:38.29) at the Nike Outdoor Nationals in Greensboro, North Carolina.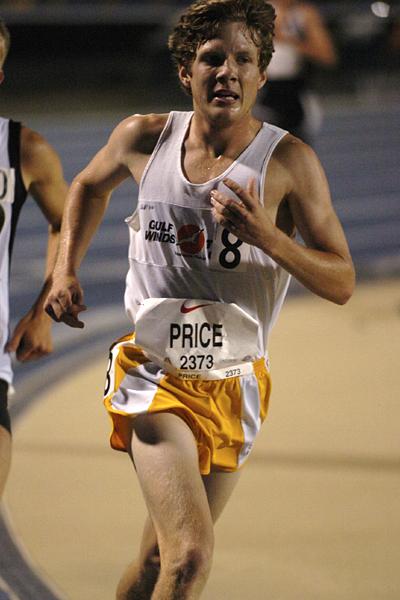 To really understand, you had to have heard or read Paul Hoover's presentation about Tyler Price at the Pot Luck Bash. In case you don't know GWTC recognizes the top Track and Field male and female athlete and the top Cross Country male and female athlete with Chenoweth Awards at the Pot Luck Bash. And you need to understand the Chenoweth Committee has never given the award to the same person twice. So when Tyler Price, last year's cross country winner, received a nomination again this year, the first answer was "not again." But that was before Paul's email. That was before we understood exactly what kind of a mountain this kid had to climb. First, he had to train mostly alone. I won't say he had to train without a support system because he has a hell of a dad and he had Paul Hoover. But he had to run on the grass on the inside of his high school track because the track just isn't in good enough shape to train on. And he had to do it 90% alone. I can not explain it better than Paul did so here is what he said:
… the one area runner that I feel has just gone above and beyond this year is Tyler Price. This was only Tyler's second year of running track, so he was still pretty new to it. To increase the challenge, he made the decision to also play tennis for his high school team. What a lot of people don't realize is that both sports have basically the same "season". Therefore, he had to practice and compete in both sports in the same time frame. During the season, several coaches indicated that they would never let one of their athletes do both sports for obvious reasons. However, what many failed to consider is that this year Tyler couldn't, not do both. As I am sure you are aware, his father, Dave, is the cross country and tennis coach at Wakulla High School and unfortunately, was diagnosed after the cross county season with ALS (Lou Gehrig's disease) and he had announced that this would be his last year to coach tennis. Tyler could not miss out on that. He wanted to play for him and also knew that if he was on the team, he could help his dad with the practices and the younger players. Dave has been a coach for almost 30 years and one of Tyler's uncle's has also coached for over 30 years in Texas, so Tyler has been raised around coaching and knew that if he tried to do both sports, he probably wouldn't reach his full potential in either. However, he set his mind to the task and never looked back and let me tell you it was tough. Tyler couldn't practice with the school's track team because track and tennis practices were held at the same time. If he was going to do both, he was basically on his own as far as training for track went. That is where I came in and got to see first hand the effort and dedication this young man showed this spring. We mapped out his training schedule and got together at least two days a week for interval work outs. Pretty standard stuff, except when you consider that he ran probably 95% of his interval workouts alone. Nobody to run with, pace off of, chase or anything else, just him, the track, the stop watch and a worn out old "roadie". That is really tough and he did it week after week, workout after workout. To compound the challenge, these workouts were almost always done either just before or after either tennis practice or a tennis match. It was "normal" for Tyler to trot off from a tough interval workout only to go directly to the adjacent tennis courts and practice for 11/2 to 2 hours. Or come directly from a 3 hour (singles and doubles) tennis match and jump right into an interval workout. I really don't know how he did it, but he was absolutely determined to share his dad's last year of coaching and also try to realize his potential as a track athlete. Anyone that knows Tyler, knows that he is never satisfied with mediocre performance and had also set pretty high goals for himself in tennis. He achieved most of them. He was the #1 seeded player on his team and was ultimately named to the second team All Big Bend tennis team.
His success on the track was even more impressive. Prior to this season his PR's for the 1600 and 3200 respectively were: 4:45 and 10:15. Over the course of the season, he lowered those to "elite" times of 4:26 and 9:35 respectively and also ran a 2:03 for 800 meters. He ended up winning the District title in the 3200 and was second (to Joe) in the 1600. He also won the 3200 at the Regionals and was again second to Joe in the 1600. At the State finals he ran only the 3200 and placed third. This is where he ran the 9:35. He was subsequently named to the all Big Bend team in the 3200. Tyler was also honored as Wakulla High School's 2006-2007 top scholar/athlete. This was an award that was personally extremely important to Tyler, because his dad was named the Florida High Athlete of the Year in 1970 and he wanted to win the same award his dad had.&nb sp; In a "football" county it is almost unprecedented for this award to go to a cross county-track runner/tennis player. And he hasn't quit yet, he is currently training to run the 5k at the Nike Nationals next month.
The successes noted above are impressive, but I think are only a small part of what made Tyler's season so memorable. There are many challenges and distractions for senior's and it is often hard to keep them focused and headed in the right direction under normal circumstances, but when you consider the additional challenge of his father's diagnosis, I think what Tyler was able to accomplish is nothing short of phenomenal. To do two sports simultaneously, and do them well, is mind boggling. To additionally be there to help his dad in any way that he could speaks to the character of this young man. In a lot of ways, just because of the circumstance, he was a track athlete without a team. At some of the major competitions he attended, he and Jeremy Williams (shot putter and discuss thrower) were the only ones to attend from Wakulla High School. In these instances, Tyler was the one who found the meets, went on line to register he and Jeremy , arranged transportation and even picked up the entry fee check from the school's Athletic Director. This is far above and beyond what would normally be expected of a high school athlete and he just did it, without complaining or calling attention to himself. At one of the Maclay meets early in the season, Gary Droze made the comment that Tyler was the most "intense" high school athlete in the area and he is right. Tyler is absolutely committed to running. He is a student of the sport and spends untold hours on the FLRunners web site. He can tell you more about who has done what, where, their times, training schedules, etc. than anyone short of a committed, obsessed head coach. He is a remarkable young man.
No young person should ever have to face the challenges Tyler has after his dad's diagnosis. That would have been reason enough for anyone to pack it in and go home and say the heck with it all. But that is not the Price way. Dave has attacked his disease and still lifts weights, walks, rides his bike and plays tennis and Tyler has responded with the same determination and heart. He didn't go home and mope and wonder "why us?", he simply played two sports during the same season (and excelled in both), trained hard and alone most of the time, took on many additional duties and responsibilities, never complained, fought off any hint of "senioritis", excelled in the classroom and was his own toughest critic. To my way of thinking, he is the embodiment of what a true, dedicated student/athlete should be, but even more important is the type of son and person that he has proven to be. I know how proud his parents are of him, not for what he has accomplished on the track or the tennis court, but for who he is. In track, the stop watch is the one constant and often times tells the whole story. However, in this case, it just scratches the surface and doesn't tell nearly all of the story.
I have been around this "running thing" for almost 29 years and have seen a lot things and met a number of people who have amazed and inspired me, but no one more so than Tyler has this spring. I could only hope (but seriously doubt) that if I was ever in a similar situation I would respond with half the courage, determination and heart that this 18 year old young man has.
Tyler and his dad were at this year's Bash to pick up his award. My first "moment in time" came when David Price, Tyler's dad and the winner of the very first Palace Saloon 5K, gave us a big thumbs up after watching Tyler pick up his award. It is very difficult for David to speak, so what a perfect way to express his appreciation. The second "moment" came when I opened that picture and saw Tyler's own silent thank you – the GWTC singlet he wore at the Nike Outdoor Nationals. Despite the financial support for travel costs that come with a Chenoweth Award, we never ask an athlete to do that. But this very classy champion had to give us one more "moment in time" just in case there was any doubt it is all worth the effort.