A Time to Celebrate – Women's Distance Festival 5K
David Yon, 
I am not sure when it happened exactly, but the number of women finishing road races in the United States now exceeds the number of men by a substantial number. Running USA reports that in 2016, female runners accounted for 9.7 million finishers nationwide (57%), while 7.3 million finishers were male. Overall, there were 16,957,100 finishers in U.S. running events, down 1% from 2015. According to Running USA, US Road Race Trends, it was sometime between 2005 (men were 52%) and 2010 when women were 53% of the finishers.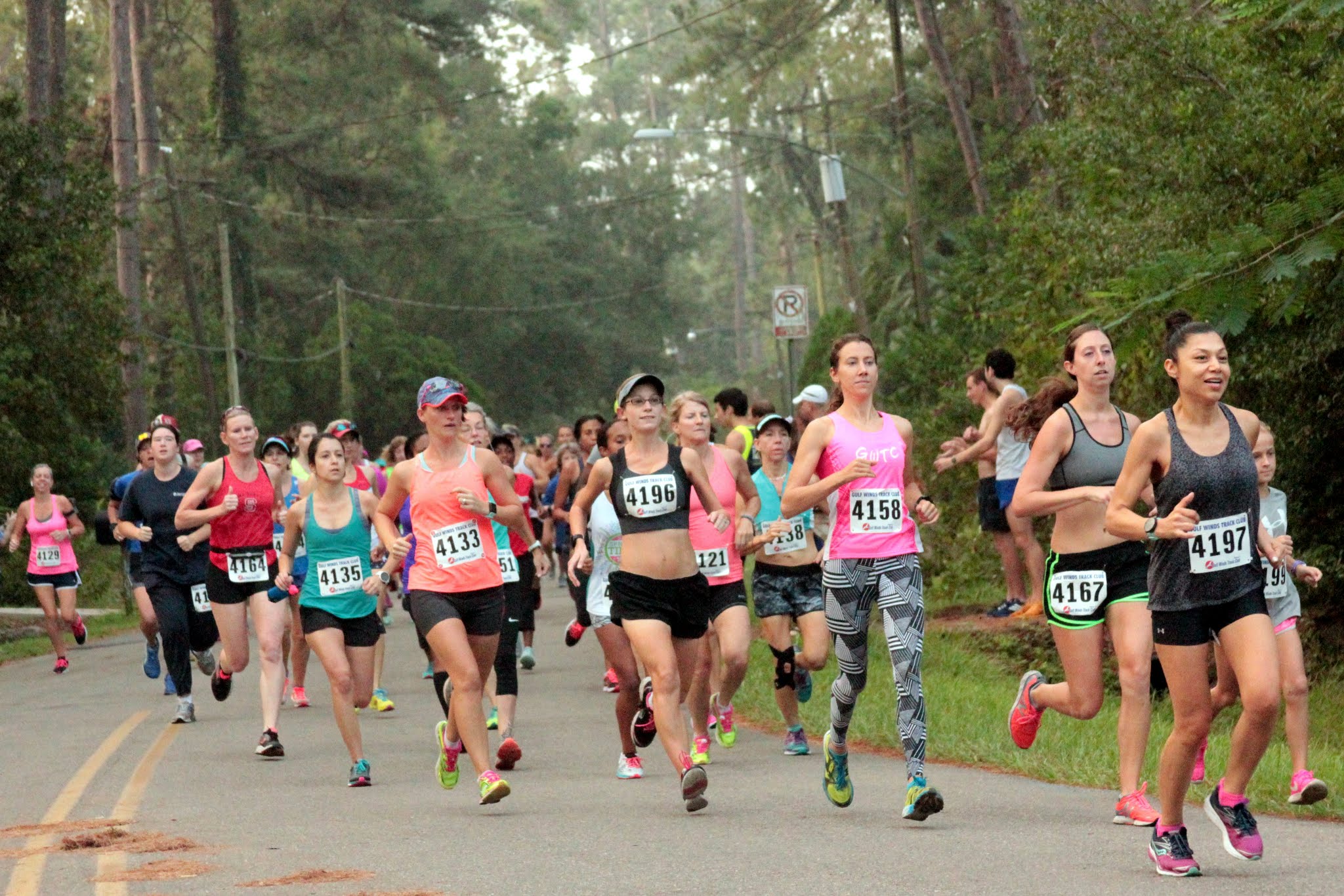 On Saturday, September 23, 2017, 95 women took off running at 8:00 a.m. looking to cover the 5K course in Indian Head Acres as fast as possible. At 8:05 a.m., 85 men left the same starting line and the GWTC's 2017 Women's Distance Festival was off to a good start. The course is one that challenges your toughness, speed and ability to pace correctly as it rolls up and down some moderate to challenging hills. In 1979, the Road Runners Club of America (of which GWTC is a member) started the Women's Distance Festival in response to the lack of distance running events in the Olympics Games for women. The race has evolved to become a celebration of women's running and how far it has come since Jock Semple tried to knock Kathrine Switzer out of the Boston Marathon in 1967 because she was a woman.
Or to salute Roberta Gibbs' accomplishment. In 1964, when Gibbs watched the Boston Marathon for the first time, something inside her said she had to run the race. Fearing that she might "expire" if she tried to run the marathon, since as a woman she had been taught she could not cover the marathon distance without grave harm, she started training cautiously. Already a runner, she trained for Boston by gradually extending her long runs until one day she ran 40 miles. That did not impress the rulers of the Boston Marathon, however, when she applied for a number. She received a letter stating it was a man's race and she was not physically capable. It was too big a liability for the race directors. Of course, you hopefully know the story – how she covered herself up with bulky cloths and ran the race anyway, finishing in 3:21 minutes and forty seconds, in the top third of the finishers that day.
The Tallahassee version of the Women's Distance Festival originated in 1982 and was called the "You've Come a Long Way, Lady 5K." Race directors Dot Skofronick and Shirly Bull offered a unique support to runners – "free babysitting." All of the finishers that year appeared to be women; there were 26 finishers in the 5K and 24 times recorded for the 1-Mile race. The following year a story in the Florida Flambeau reported there were more than 100 runners, 93 women and 10 men, participating. Lisa Unger became director of this race in 2006, sometimes with a "co-race director," but often doing it alone. Lisa has done a very good job keeping the race well organized and true to its purpose.
One of the virtues of the sport of running is the way so many men and women can run and train together. Early in my running career there were not nearly as many women running and even fewer running at a competitive level. The idea of getting "beat by a girl" was something many men believed was to be avoided at all cost. It was frustrating for many women to watch a male runner nod in surrender as another male runner went by him and then feel that same runner picking up the pace to avoid getting "chicked." (Of course, most times that only delayed the inevitable.) While there are still some men who feel that way, the number of talented women runners on the roads and trails today mean they should wise up and take the high road – before their egos are totally gone.
Of course, fair opportunities have not always been there. Jock Semple was chasing Switzer because enough people believed her ovaries would explode around mile 15 or they would "expire," that they created a rule that women should not run marathons. When Lynn Jennings, one of the best US distance runners, decided to go out for her high school cross-country team at age 14, she ran with the boys team because there was no girls team and that was as late as 1974.
Robert Deaner, a professor at Grand Valley State University in Allendale, Michigan, gave the following analysis: "Back in the 1980s, women comprised roughly 25 percent of finishers at US road races and about 40 percent of high school and collegiate runners. Today there are more women than men in road races and on collegiate cross-country teams, and women have nearly reached men's participation levels in high school cross country."
Perhaps that is Title 9 or maybe it is the leadership of runners like Lynn Jennings. I don't know her high school story well enough to know how the guys on her team felt about getting "chicked" when she went by them. But I do know she had an incredible career – 9-time US cross-country champion, 3-time World cro
ss-country champion, and bronze medalist in the 10,000m at the 1992 Olympics. She held the American record at 10,000 meters with a time of 31:19.89.
If anyone doubts her toughness after all of that, I would encourage you to read Peter Larson's blog of February 19, 2014. She somehow survived an acute bilateral pulmonary embolism. In the blog, Jennings wrote: "I was told in no uncertain terms by cardiologists, pulmonary specialists, internists, radiologists and ER nurses and doctors that the size, strength and power of my lungs and heart are what saved me since my heart was under severe strain and pressure." She also wrote:
"I have been a runner since I was 14 and the only girl on the boys' cross-country team in Harvard, MA. Whether I was toeing the line at the Olympics, at the World Cross Country Championships or running 100 miles a week in training, I did it because running reminded me exactly who I am and what I am made of. These years later it remains purely so."
Amazingly, instead of causing Jennings to expire, all that running probably saved her life. What a great way to celebrate women's success in running than to see Katie Sherron and Anni Veltcheva battle it out behind the lead car to