As Fast as We Can
David Yon,
 As Fast As We Can. There are those, like Deena Kastor, who run fast enough to make an Olympic team and compete for a gold medal. Then there are those, like Vince Molosky, who climb up and down the hills and trails of Torreya State Park finding their own unique challenge. Kastor won the Olympic marathon trials blistering the roads at around a 5:40 pace, while Molosky won the first ever Torreya Ultra Trail Challenge (50K) at a bit over 11 minutes per mile. While Kastor and Molosky each ran fast enough to win, there is also Joan Benoit Samuelson and Gary Griffin, whose competitive efforts at a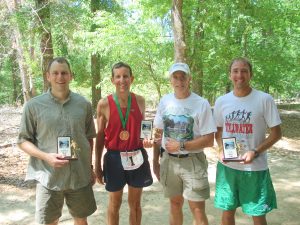 ge 50 and 58 demonstrate we can keep the fire burning with a little focus and some new goals. There is something innate about wanting to see how fast we can run even as kids and there is no reason to ever let it go. Get ready, get set, "Go!" For those who never outgrow that feeling, the sport of running permits us to stay young for a long time, whether we win or not.
On Sunday, Deena Kastor, the best women's distance runner in the U.S., put the hammer down dropping her mile splits below 5:40 at around mile 16, to win the U.S. women's marathon trials. She will be looking to match or improve her bronze medal performance from Athens when she represents the U.S. in China. A couple of miles back, the only woman to ever win a gold medal in the marathon for the U.S., was tackling her own challenge. Samuelson's unassuming class and fierce competitive spirit made her a personal hero of mine. Her story of winning the US trials in 1984 just three weeks after knee surgery and then going on to run away from the Olympic field on a hot LA day was perhaps the best chapter in a great story. She first won Boston in 1979 in a Red Sox cap and returned in 1983 to win in a world record time of 2:22:43. Her best time, another world record was 2:21:21 run in Chicago. At age 50, the 2008 women's trials were no longer a place for Olympic glory, but she nonetheless had a remarkable goal – to break 2:50 at the age of 50. Not surprisingly, she crossed the finish line in a Boston Red Sox's hat in an U.S. age record time of 2:49:09. What was so remarkable to me was that someone who has accomplished so much at her peak could still find such a grand way to compete.
Likewise at Torreya on Saturday it was a day for personal challenges as Joe Edgecombe and Marty Kirkland provided runners a unique opportunity to run their best in this hilly state park. Torreya, a "botanical marvel" that features the extremely rare Torreya and Florida Yew trees, was home to a new ultra event on Saturday that included a 50K (31 miles) and a 25K (15.5) race. The courses consisted of single track trails that climbed the 300 foot Logan's Bluff and included river swamp, hardwood hammocks, and high pinelands. The treacherous footing on the steep hills made running while taking in the beautiful array of wild flowers hazardous to one's health. To understand how difficult it is to run these trails you only need know that the winner of the 25K, Brian Corbin, averaged slower than 10 minutes per mile. The director felt compelled to poll the runners to count the falls they suffered during the race. The long red stream of blood running down Gary Griffin's shin was his badge of honor, but the smile on his face made clear his inner child was quite pleased with his smart effort that earned him second place in the 50K in a time of 6:02:42. Vince Molosky ran a pace of around 11:23, to win the 50K in 5:52:53. While it was much slower than he is used to running, it was clear he too had experienced something special.
Each day and each race means something different for running "As Fast As We Can."