Boston, The Place to be on Patriot's Day.
David Yon,
On April 19, 1897, a sprinter (double gold medalist Tom Burke 100 and 400 meters) "dug his heel into one side of the hard and narrow dirt road in front of Metcalf's Mill in Ashland, Massachusetts," reports Tom Derderian in his book "Boston Marathon." Burke scratched a line across the road and moments later 18 men towed the line and then charged away when Burke yelled "go." The winner, J. Jack McDermott, ran his usual time of 2:55:10 seconds, although the course that year was 24.5 miles. (McDermott was only 2 minutes slower in this year's 26.219 mile long Tallahassee Marathon (2:57:20.61)). Only 10 finished in 1897, but finish line timer, Bill Lott, waited for all of them, including the final runner who finished in 4:10:00.
The marathon has been run every year since then except 1918 (when it was interrupted by World War I), enduring as part of the fabric of life in Boston. It is a Mecca for elite runners and the general masses, at least those who accept the challenge of achieving a qualifying time. Our collective hearts stopped in 2013 as the scenes of the bombings spread across the country and many areas around the city of Boston were on lockdown. In the end, rather than weaken the event, the phrase "Boston Strong" united runners and fans everywhere – even New York City baseball fans became Bostonians for a few moments.
Tallahassee has its own special history with this event; never more evident than in the out pouring of support after the bombing in 2013. Every year this area is well represented by runners who trained and achieved a qualifying time for Boston. This year is no different as at least 15 runners have signed up. (See list below). The leader in number of finishes, to the best of my knowledge is Jack McDermott. Not counting 1897, Jack has completed the marathon 13 times in a row and is looking for number 14 this year. His consistency has been remarkable. His top 11 finishes were all between 2:50:52 and 3:03 minutes. His two slowest were 3:13 and 3:17.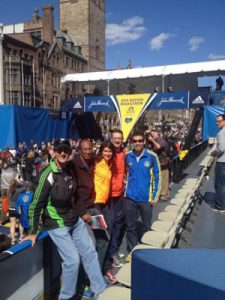 Mike Peymann will be running his 5th straight Boston. Assuming the weather cooperates, Mike is gunning for a sub 3-hour marathon. Mike was there in 2013 when the bombs exploded, but quickly says he doesn't spend energy worrying about a repeat. "I love the Boston Marathon. It's a holiday in the city and the course is lined with spectators cheering the runners. My favorite moment last year was when someone was playing Sweet Caroline – all the runners were singing along."
Gary Griffin has run 100 miles in under 18 hours (at Lean Horse), through the Himalayas along the Nepal-India border, in the freezing cold of Mountain Mist and countless other challenging events. He once considered Boston "too large, too crowded and too mainstream." He went on to say: "But as the years ticked away I came to realize that it may very well be the greatest running event in America and it was something that I needed to experience just to find out. That was 2003 and when I crossed the finish line I had tears running down my face. A marathon had never done that to me before, and though this will now be my 6th time running from Hopkinton to Boston, I feel that same emotion when I finish every single time." Gary also recognized there is something special about the way the residents of Boston approach the event. "Every time I go to Boston for "marathon weekend," I am simply astounded at the outpouring of hospitality from the community. They make you feel like you are a valued guest in their city and everywhere you go it seems that everyone you meet from the community is an instant friend. I've experienced that nowhere else like I have at Boston."
There is nothing quite like a runner's "first Boston." Nikky Manausa, hopefully will experience that wonder this year. Her story is very special. Her father, Randy Doerr, died of pancreatic cancer in 2008. She wanted a way to honor her dad and to stay conn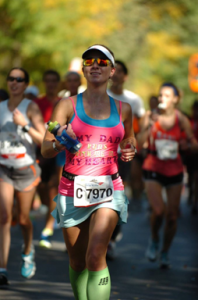 ected with his memory. She set out to train for the 2010 San Diego marathon. On race day, she started determined to finish. Well short of 26.219 miles however, she found herself lost and crossing a finish line. Whoops, it was the finish for the half-marathon. She got back on course though and crossed the correct line in 4:20. Most runners would have looked at that time and immediately given up on any chance of qualifying for Boston, especially if their qualifying time was 3:35. "I had always been that "10 minute per mile runner," but decided I really wanted to qualify for the Boston Marathon because it seemed almost unattainable…, but I like to dream big!"
The effort would pay off. Nikky continues: "In 2012 I found out that the 2013 Chicago Marathon was on my Dad's birthday, and decided I would do everything possible to qualify at it. On October 13, 2013, on what would have been my dad's 64th birthday, I did it! I will never forget that day! It was my fifth marathon, five years since I had hugged my dad, and I swear he gave me wings! I qualified with a 3:32:47." She is ready for the test, putting in a lot of miles on hills and following carefully the training program of her coach, Nancy Stedman. "Boston is truly a dream come true. I look forward to spending those 26.2 with my Dad."
I can't think of a better way to finish up than to quote Gary Griffin one more time: "I say every year that this is my last, and every year I end up going back for the same reason: Boston is where I want to be on Patriot's Day."