Mary Jean Yon, 
I don't tend to excel when it comes to Famous Person Sightings (FPS) but I got lucky when we traveled to Rio de Janeiro for the 2016 Olympics and ran right into Meb Keflezighi. David and I were returning from an easy run along the trail in Flamengo Park, a beautiful linear park that runs along the coastline and has a great multi-use trail. We saw this familiar looking elite athlete standing outside his hotel which just happened to be around the corner from our hotel. We stuttered and stared and before you knew it, Meb smiled and confirmed it was indeed him. He made it easy. He could have easily continued his conversation and ignored us but he took the time to have a quick and friendly chat with us. Yup, I was star struck.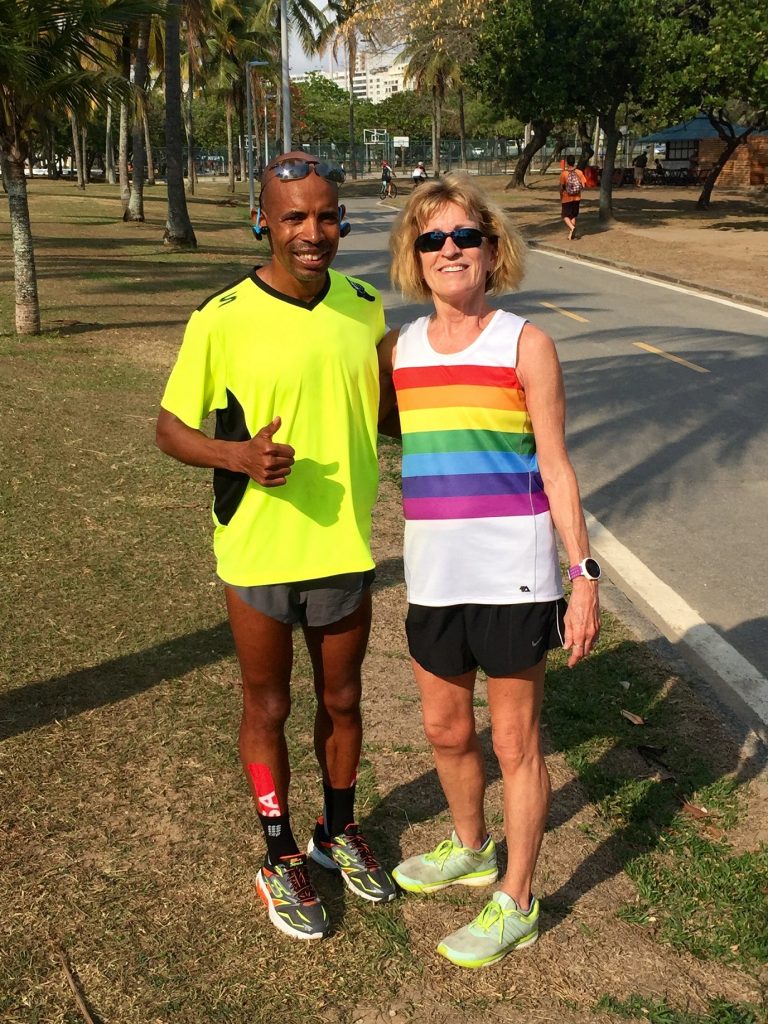 A day or so later, we were back in the park running along and loving life. We looked up and saw Meb running towards us. Stomachs in, shoulders back, pick up the pace…here comes Meb. He breezed by us in that style that only elite marathoners possess and we all smiled and waved. "Whew! Hope we looked good to him!" I thought. But wait…it gets better. Meb turned around and chased us down which couldn't have been hard. Then he ran along with us asking US questions about the marathon course. Again, he made it easy. And then he asked if we'd like to take some photos with him. Be still my heart. We did indeed take those photos and to this day, I laugh when I see the goofy smile on my face when I look at that prized photo of Meb & me.
So, if you're feeling a little nervous about joining us on February 2nd at Lafayette Heritage Trail Park to run with Meb (or any of the other activities he is going to do) …don't be! He'll make it easy on you and you'll have your own FPS. And make sure you get your picture taken with him. I know I will!
In addition, there will be opportunities to hear from and meet Meb on Friday, February 1 when he speaks to elementary and middle school runners (5:00 p.m.) and high school runners (approximately 2:30 p.m.) On Saturday morning, he will do a community run, starting at the Lake Heritage Trail Park at 8:00 a.m. Bring your running shoes and a camera. Saturday, February 2, he will be recording a live podcast about his running experiences at 1:30-2:00 p.m. at or near the expo in the DoubleTree and a book signing and presentation begining at 2:30. Sunday, Meb will be running the Tallahassee Half Marathon on Sudnay at approximately an 8:00 minute pace.
It will be a great weekend.