By David Yon
The ten-year winning steak for Kenyan men came to an end today as Ronnie Godwin moved past a pack of runners led by Khalid Khannouchi on Heart Break Hill and then held off a valiant effort by Bong-Ju Lee of Korea to capture the 105th Boston Marathon. The two raced down Boylston Street in a manner reminiscent of Bill McGuire and Tim Unger's effort at the Palace Saloon to break the 2:10 mark. Godwin broke the tape with a lean at 2:09:42, while Lee was less than a second behind at 2:09:43. A stunned group of journalists from all over the world began scrambling to find this runner's name as he first approached the lead pack for the first time just before arriving in Wellesley – the half way point. The first number they saw (F1) made no sense, but soon Larry Rawson found this unknown's name under number 2183. It is a name that will not soon be forgotten, as Ronnie Godwin became the lowest seeded number to win this race in its 105-year history.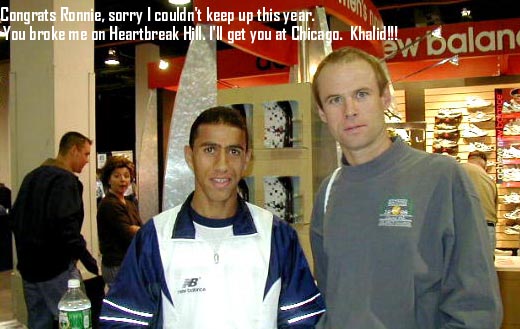 "I simply can not explain what happened here today," said a weeping Godwin. "It has been tough the past year or so living in my cousin Greg Waddell's shadow. You have to understand Bainbridge, Georgia is not that big a place. That runner of the year thing – well I train hard too."
"Ronnie, did you ride the subway? Is that how you did it?" asked the reported from the Boston Globe. "Of course not," Godwin yelled back. "I would never do something like that, but listen and I will tell you a story of the magic of the Boston Marathon, the oldest marathon in the world."
"I was packed into my corral just before the start of the race. You know how intense they are in Hopkinton about keeping everyone in the right place and everything in order. Well sure enough, soon as I got lined up, I just had to go take a leak. So, I jumped over the fence and headed around behind one of the houses. Next thing I know someone was yelling at me to come inside. Well, what was I to do? I went in, found the bathroom and took care of business. When I came out there was a room full of elite runners. The Olympic champion Gezahegne Abera, my good friend Khalid, the U.S. champion Rod DeHaven and many others. Before long they were shuttling us all out the door and toward the start of the race. I was worried someone would lock me up forever for following these guys to the starting line, but I wasn't sure how to get back in my own corral at this point. Well by this time I was about to become a nervous wreck. As I made my way out the door and toward the starting line, a small figure approached me and offered me a number. It was "F1" and on the back it had the time 2:22:42 written on it. Wow! She whispered quickly in my ear to pin the number on and then fly with the magic wind of Boston. I pinned the number on and looked up to say thanks and found that she had vanished just as quickly as she had appeared. In 1983 Joan Benoit had shattered the world record at Boston by almost three minutes. Now Joan Benoit Samuelson had found just a bit more magic for Boston, only this time she left it with me.
"Now let me tell you, there is no place like Boston. One hundred and five years of history can do some strange things to runners. I flew down the hills on the narrow two-lane road out of Hopkinton like I have never run before. I zipped past the train station at Framingham running with the ghosts of Clarence Demar, Tarzan Brown, Alberto Salazar, Toshihiko Seko, Cosmos Ndeti, Johnny Kelly the elder and Johnny Kelly the younger. As I traveled the flat road to Natick , Roberta Gibb, Katherine Switzer, Anne Audane and Uta Pippig carrier my weight. And as I approached Wellesley a thousand shrill voices reached out to grab me and I swear the hand of Joan Benoit Samuelson grabbed me and lifted me right to the leaders. There is no sound like the shrill of the women of Wellesley as you approach the half way mark. Talk about goose bumps, I just can't imagine what it must have been like in 1983 when Joanie came though well under world record pace. And when I reached Heartbreak Hill, who was there, but Boston Billy. No one ran ever ran those hills any better than Rogers – four times he used them to carry him to the victory stand. Down the hills on the other side of Heartbreak toward the Citgo sign marking one mile to go, I ran with Salazar and Beardsley as they ran their hearts out in 1982 (finishing two seconds apart). Then as I turned on to Hereford Street, past the old Elliot's Lounge, it was the ghosts of Ibrahim Hussein and Juma Ikangaa that invaded my legs. Their epic 1988 battle left them one second apart after Hussein lifted his knees high and looked like a miler down the stretch as he snatch a victory away from Ikangaa. As I matched strides with Lee, there was the magic of one hundred and five years that made me the winner – and left me with a gift I will never forget. It is a magical ride from Hopkinton to Boston like no other."
Other area results.