VIEW VIDEOS OF THE AWARDS PRESENTATIONS
COVID-19 has impacted GWTC in many ways.  The Presentation of Awards is one example.  Normally, a large crowd would gather and watch the presentation of GWTC's Annual Awards and Grand Prix awards.  But the 2020 grand prix competition was cancelled for lack of races and the risk of COVID spread led to a decision to not have a ceremony in front of a live crowd.  But all is not lost as Award Committee members Mark Tombrink (chair) and Kat Sack went to work and found COVID safe ways to salute a number of very special GWTC members.  Thanks to Mark and Kat and to the other Awards Committee members (Paul Guyas, Thomas Biance, Meredith Snowden, Phillip Sura and Stephanie Liles-Weyant) for their creative and determined work. Check back for more written presentations and eventually video presentations.
Cleveland-Caldwell Advancement of the Sport Award – Dan Manausa
Nominated by Paul Guyas
For several months, Danny was seeking opportunities to increase access to running and sports for disadvantaged youth and he had several ideas, but none had enough polish to be able to get the Club behind him. Then through sheer determination, he found the opportunity he was looking for, the ACT program. From start to finish, he lead this initiative which ended up earning the Club $7665 so far and we may still end up getting the grant we applied for which is up to $25,000 (*we will know this amount by mid-December*). At his request and through his efforts in planning and organizing, we will be using these funds specifically to Bridge the Gap so that disadvantaged and marginalized groups and individuals can gain the access to running that we all enjoy.
Bill Lott Volunteer of the Year Award – Keith Rowe
Nominated by Michael Savage
For well over 17 years Keith Rowe has led the Monday evening Winthrop Park Express running group through the local neighborhood.  His dedication and loyalty each Monday are nothing short of exemplary.  In addition to leading the Monday evening run, Keith is the Race Director for the Flash 12K/6K club race.  For weeks in advance, Keith pours himself into the event paying attention to every detail to ensure a fun and successful time for all.  Keith has been the Flash Race Director for several years and his enthusiasm does not wane.   I have witnessed times at race events where Keith will jump in when he sees there is a gap where a volunteer is needed.  On numerous occasions this year and past years Keith will be the Support and Gear (SAG) vehicle for runs and bike rides (both club event and ad-hoc event) to keep the participants hydrated and address any gear or physical needs.  The annual show up and Run to Posey's is something Keith looks forward to each year, greeting the runners with cold refreshment as the runners exit the St. Marks Trail.  Keith shows us what it is to be a committed member of GWTC and contribute to its success as a running club.   It is not to say this award is past due, this is simply to say this is a well deserving individual who not only volunteers his time and talents to GWTC, he also promotes the sport of running and GWTC itself year-round!
"I seem to submit this name every year.  Past winners deserved the awards, but this person  is long overdue to receive it.   His list of activities is extensive and I will only list a few.  Some 17 years of leading the Monday night Winthrop Park running group, promoting events with both the Track Club and the Tri  Club on social media…Then, shows up to help out in any way from chalking courses, working water tables, using his truck to haul supplies or pull the Club trailer…the list goes on and on.  I will be happy to add more if you feel that it is necessary.  Keith does not seek out recognition, but he certainly deserves it for all he does for the Track Club." – Mark Priddy
"Keith is another one of those guys nobody would believe hasn't received an a GWTC annual award. I'm nominating him for CCAS; however, if he doesn't get this one, I'd like this to be considered a nomination form for VoY, too. He has been RD & Co-RD of a couple of races, volunteered for over 17 years of the Winthrop Park training group, Christmas Lights run & a multitude of other group runs throughout the years. He not only spearheads these group runs, but he also makes sure everyone comes back safely, sweeps the back of the group, mentors neophyte runners who join the group, & so on. This is a man who embodies the spirit of a true runner who encourages & inspires others. Again, if I'm selected to present this award, I will give much more specific information." – Judy Alexander
Keith is an ever-present volunteer at events, plus he coordinates weekly runs at Winthrop Park and encourages everyone constantly. He always makes people feel welcome even if they are new runners. He does so safely and enthusiastically. If someone is struggling (including me), he always offers to walk or run slowly with them at their pace." – Gabrielle Gabrielli
Community Award, – Howdy's
"I have nominated this company 4 years in a row. Kevin and his team have never let us down. They have left toilets out at races (Miller Landing Madness) after hurricanes have postponed them and not charged us. Kevin is super-responsive and available at a moment's notice to help with anything, and he gives us a discount, no matter how few toilets we order" – Judy Alexander.
"This company has not only supported GWTC, but has also provided relief to club members over the years.  🙂  It is about time that Howdy's is recognized with this prestigious award.  Please don't flush them into the scrap heap of perennial runners-up and show them some love!" – Tarik Noriega
Community Award – Casey Hutto
Nominated by David Yon
Mr. Hutto has been his own force in supporting youth running in our community by arranging opportunities for our kids to compete and to learn about the sport. He is often reaching into his own pocket to take care of expenses that otherwise might keep someone out of the race.
GWTC Hall of Fame Award – Mark Priddy
Award Description: Individuals who have brought respect to the Gulf Winds Track Club through their contributions, activities, and running accomplishments, and who have played a major role in shaping the ideals of the club are recognized when inducted into our Hall of Fame.
Presented by Gabrielle K. Gabrielli, PhD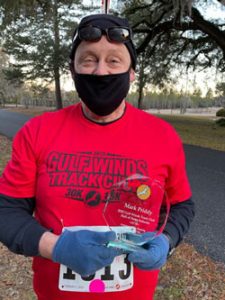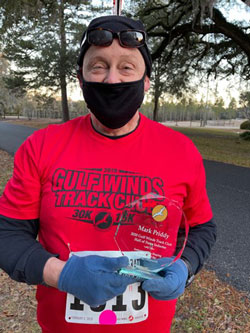 Through the years, there have been dedicated Gulf Winds Track Club members who have been a steadfast presence in making the club one of the best in the country. Mark Priddy is one of those individuals who works tirelessly to help the club be so successful. His efforts recently earned him the most prestigious award the club bestows. Congratulations to Mark Priddy for becoming the 2020 Hall of Fame inductee! In the past 25 years, Mark has volunteered and served in almost every capacity including as vice president, race director, listserv moderator, school grant coordinator, Grand Prix committee member, membership director, and his new role as GWTC president.
Mark says, "I have always been a person who works behind the scenes. I much prefer to recognize others for their work than to draw attention to myself."
Judy Alexander, Hall of Fame award recipient, echoes that sentiment, "Mark is the type of guy who doesn't want recognition. He works tirelessly in the background to improve our club and our members' experiences.. Mark is a true unsung hero who has worked in the background so quietly, he's never received an award! He has volunteered at too many races to count, been the RD of at least two, and he's been the Membership Chairman for countless years. He has been the voice of reason in so many controversial club subjects, and has always had the club's best interests at heart. This is a man who travels extensively yet always finds time to go to meetings, encourage others and generally be present in the running moment. I'll be happy to give more specific information; however, I think people know he's worthy of this award. If I'm chosen to present, I will obviously be more specific. Thank you for your indulgence."
Mark has volunteered at every club race and many community races including Gadsden Correctional Facility, St. Peter's Anglican 10k, Run for the Cookies, Shamrock Scurry, Run for Lawson, Flash 12k/6k, Palace Saloon, and many others. Like any good leader, Mark believes that no task is beneath him; he enthusiastically embraces whatever job needs done. He has served in nearly every volunteer position to put on a race including registration, packet pick up, marking courses, water stops, equipment set up and takedown, trash clean up, and volunteer coordinator. He has helped pace the beginning running group, the Winthrop Park express, and the Springtime running group. Mark says, "I find Gulf Winds Track Club incredibly motivating! It makes me grateful that I have good health and the ability to still get out there and race."
Bill McGuire, Hall of Fame award recipient, says: "I have never known Mark to seek the spotlight. Rather, he has often worked behind the scenes, as he did in the unglamorous job of membership chair, or as a hardworking member of various other committees. He is a humble guy who gets the job done and does it the right way. He is level-headed and easy to work with, even in the face of high-stress jobs like marathon traffic control!"
Mark's presence at GWTC events is always welcomed. At the first in-person race since the global pandemic, the 30k/15k on 16 January 2021, many additional protocols were in place to ensure the safety of all participants. Mark says, "When you run a race, you are naturally self-absorbed with your own pace, breathing, finish time, etc. When you are around Gulf Winds Track Club people, you get to see people having fun, laughing with their running friends, working to overcome obstacles, and relishing the day on the course." After a challenging 10 months since in-person races were canceled, there was a sense of normalcy seeing people racing again including Mark and his wife Anne.
Keith Rowe, Volunteer of the Year award recipient, calls Mark his mentor. He says, "I don't know anyone who cares for our track club more than Mark Priddy does. Mark personally groomed me to be the race director of the Flash 12k/6k. It took him seven years, but he finally got it right. LOL. For the last three years, Mark has been right there helping out behind the scenes. This includes getting up at 3 a.m. to remark the course on race day and anything else it takes to make sure my race is a success. He has worked tirelessly for many years as the membership director and wherever the club needed him. He truly is deserving of this lifetime achievement award."
Chika Okoro, recently recognized by the Road Runners Club of America for her role in making the beginning running group #1 in America, says, "I think this award is well-deserved. Mark's service and dedication to this club has been awesome to witness, and in every role I've seen him take on, I feel like he's someone I can look to for an example of how to do things."
Jeannie O'Kon, Hall of Fame award recipient, says, "I am so proud of Mark for receiving the Hall of Fame award. We have worked closely together on the Palace Saloon 5k and other races, and I know he is dedicated, hardworking, and a great race director. He's a perfect choice for the award!"
"Mark has dedicated countless hours of service to the club over many, many years. He is always an active, enthusiastic volunteer who is a great ambassador for the club. From his role as race director to membership director to tireless volunteer, everyone appreciates when Mark is involved because you know the event will be successful, safe, and fun." – Gabrielle Gabrielli
"I admire Mark's longtime dedication to GWTC.  Also, his organizational skills and personality are highly valued by GWTC members." – Tarik Noriega
The Hall of Fame award is given to individuals who have brought respect to the Gulf Winds Track Club through their contributions, activities, and running accomplishments, and who have played a major role in shaping the ideals of the club. When asked how Mark feels about earning the Hall of Fame award, he states, "I never, in my wildest dreams, expected this award. I was shocked, speechless, and incredibly humbled. I am truly honored and intend to view this award as a commitment to inspire runners to commit to make this club a more active part of their running lives."
During these unprecedented times, I can think of no better leader who is worthy of this award than Mark Priddy, and I know I echo the sentiments of all GWTC members who are excited that Mark is also our new president!
The GWTC Hall of Fame Roster
Andy Burns, Jim Stephens, Janice Gage, Tim Simpkins, Jeff Galloway, Bill McGuire, Richard Henry, Leitch Wright, Mae Cleveland, Bill de Grummond, Mike Eakin, Rex Cleveland, Dot Skofronick, Dave Rogers, Gary Droze, Herb Wills, Gene Opheim, Tim Kelly, Joe Dexter, Charlie Yates (1998); Bill Lott (1999); Tom Perkins (2000); David Yon (2001); Ray Hanlon (2002); Fred & Margarete Deckert (2003); Felton Wright (2004); Jessie Close (2005); Jane Johnson (2006); Julie Clark (2007); Peg Griffin (2008); Sarah Docter-Williams (2009); Mary Jean Yon (2010); Tim Unger (2011); Bob Keller (2012); Bill Hillison (2013); Judy Alexander (2014); Gary Griffin (2015); Bonnie Wright (2016); Brian Corbin (2017); Paul Hoover (2018); Jeanne O'Kon (2019); Mark Priddy (2020)