The Ultra
David Yon,
As the year winds toward a close, Nancy Stedman and Jay Silvanima scramble about, doing the final preparation necessary to successfully direct the 2017 Ultra Distance Classic for Gulf Winds Track Club on Saturday, December 9. It will be the third time they have directed this event called the "Ultra." It will be the 37th time GWTC has held the event. There have never been 100 runners finish the event but it perserveres. It will be a long day for runners, race organizers and volunteers; the runners start at 7:00 a.m. and it will be more than 10 hours before the last one finishes. The 2017 version of the Ultra will also be a cold blustery day, one that makes a volunteer's bones stiffen from the chill. And yet none of this would have had the least impact on the group's commitment to the race if known months in advance. The winners on this day will be not just Peter Strickland (7:28:37) and Jamie Cooper (8:01:14) in the 50-mile race and Thomas Dever (3:38.23) and Kat Sack (4:18:30) in the 50K, but everyone who took part. Thomas Dever, amazingly, is 60 years old. Bill Hillison at age 73 finished his 27th Ultra Distance Classic and Kathleen Wheeler, who will also turn out the lights at Wakulla Springs will finisher her 100th Ultra.
The event is staged from Wakulla Springs State Park and consists of two distance races, one being 50 kilometers (31 miles) and the other 50 miles. The course follows a loop that is 10 kilometers (6.2 miles) long and begins inside the park by the bathrooms at the springs. The 50K race is 5 laps, while the 50-mile race is just a tenth of a mile or so more than 8 laps. The races start in the dark and cold at 7:00 a.m. and no one can start a new lap after 3:30 p.m., with the goal being to have the last runner finished no later than 5:00 p.m. The course is flat and paved, but there are a couple of gradual hills that can make it challenging to stay on pace when a runner's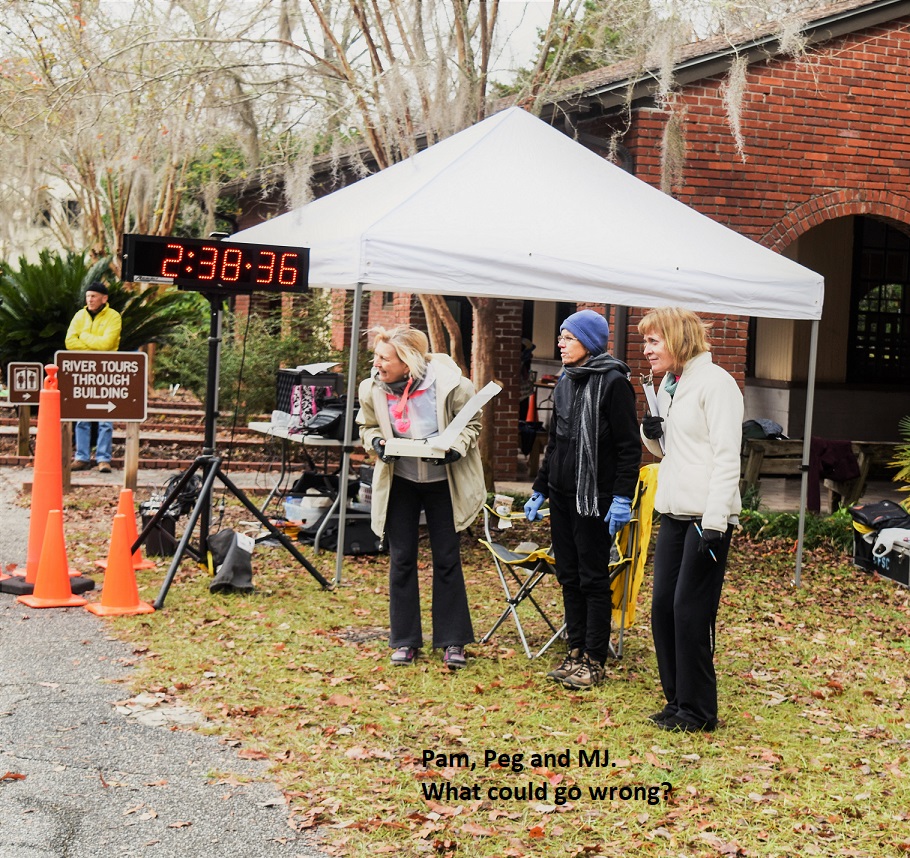 legs start breaking down.
So just what is an "Ultra"? And why does Gulf Winds keep torturing people by offering this event every year? Well, of course runners are like so many others and they have to keep pushing barriers. While the marathon was tough enough to take Pheidippides to the grave after he completed his marathon, since then millions of runners have successfully completed the marathon distance and, not really surprisingly, have looked for longer distances. Apparently, the word "Ultra" can be a noun, an adjective or a prefix. Buried in all three uses is the theme of "going beyond others or beyond due limit, extreme." Another definition, states "on the far side of beyond" and yet another definition reads "Going beyond what is usual or ordinary, excessive extreme." Under the "prefix" category, the Oxford English Dictionary (OED) includes the following: "A long-distance run of great length, specifically one longer than a marathon." The OED then refers to the following sentence from the Washington Post (July of 1977): "Nowadays the most popular ultra is the 50-mile… With a distance nearly double the marathon, it scares most runners from ever attempting it." (That is a little like Yogi Berra saying – no one goes there any more, it is too crowded.) I do not have much confidence that the 50-mile Ultra is still the most popular ultra-distance. In Wakulla for example 45 participants finished the 50K, while 12 finished the 50-miler. However, I think, it is clear that an Ultra can be most any distance that is longer than a marathon, including many 100-mile races in the mountains.
There is a significant difference between a 50K and a 50-Mile race though. For their first 50K, I recommend to runners that they plan to run an easy fun marathon, keeping in mind that when they get to the 26 mile mark there will still be 5 miles to go. If you feel good after you have finished 20 miles, then go for it. If you pace correctly, you might find the 50K is almost easier than a marathon. Alternatively, you could run like you were running a marathon and see how far past the marathon point you can hold your marathon pace (it is only 5 miles, remember). That is when you might learn the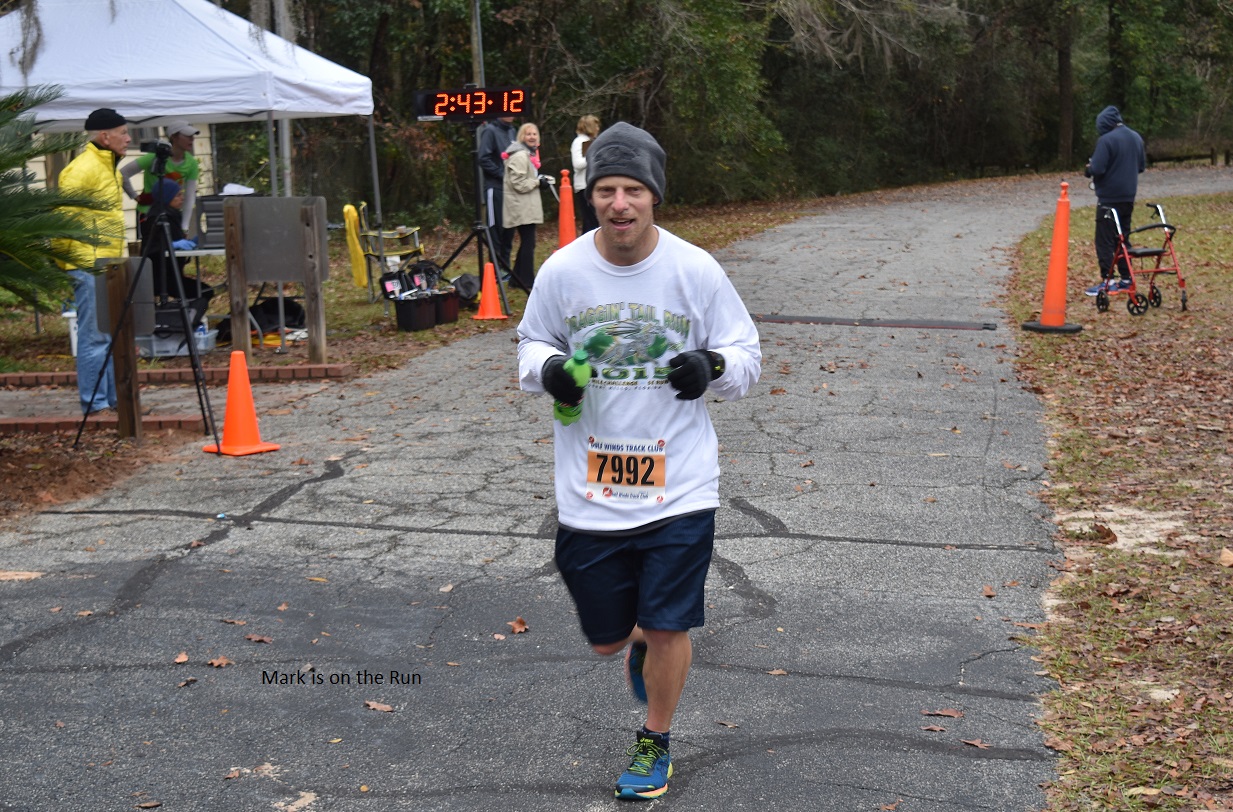 "Ultra Shuffle."
The 50-miler is another creature all together. Many ultra runners consider the 50-miler to be the first "real" ultra. A runner must pace for a very long run and maybe even build in some walk breaks. When you reach the marathon point on the course, you are just barely past the halfway point. If you don't respect that, you likely will wind up stopping at the 50K mark. Fifty miles is a lot of pounding, a lot of pain and a lot pf courage to keep plowing on when every ounce of your core says stop even if your pace is smart. But that effort also brings its own rewards when the challenge is conquered. Just ask Mark Tombrink (left).
And maybe that is what keeps the Tallahassee Ultra Distance Classic going, year after year. The little race that requires so much work is the signal that our club is doing well. As much as any event on the calendar, this one says this group works for the good of the community. Big thanks to Jay and Nancy as they work so hard to keep this event a quality event.