Volunteer Spotlight - Jay Wallace
Judy Alexander, September 7, 2007
Whether it's running or scoring, Jay Wallace is a "quick" study!
This month's featured volunteer took on the task of learning the Club's scoring system to provide results for last month's multi-distance cross country event: Miccosukee Madness 3K/5K/8K. Even before that, Jay Wallace helped in other races with less extensive but equally important tasks, however minimized by his description below. Here is a runner who can crank out a 5K in 16 and change or pop a 5:00 mile in any given race, who has decided to spend some time on the "other side" and share his experience with you.
Why did you decide to learn Racetrak scoring system? 
This seemed to be a good volunteer opportunity for a pharmacist. We are used to working with names, numbers and small details. It turns out an ability to decipher illegible handwriting helps too (registration forms, finish cards).
What was your previous volunteer experience?
Shamefully lacking. I helped at a marathon aid station and packet pickup. Otherwise, I have been enjoying all these races as a participant only.
What motivated you to volunteer now?
Running has given me many great memories and friendships over the years. Maybe I can make a small contribution toward other runners' positive memories. I also hope to contribute to the continued success of GWTC. This has to be one of the most dynamic track clubs anywhere and we owe its success to the hard work of many enthusiastic volunteers and race directors.
Anything you would like to share about scoring Miccosukee Madness?
It took me several hours of training and practice run-throughs to get comfortable with Racetrak and Time Machine. There is still much to learn but Peg Griffin is an extremely patient teacher. If I can learn this with my rudimentary computer skills, anyone can. One important point: While this software is a tremendous asset (just ask Dave Yon about typing Turkey Trot results in the not-too-distant past), it is only as good as the data going into it. There is considerable detective work involved in resolving discrepancies such as "bandit strips", missing registration information, bib strips not reconciling with finish cards. To clean it all up and post results on the web in a couple hours, as Peg does, is no small feat. I tried to come close to matching this standard but there was no comparison.
I had bib strips, finish cards and Chronomix tapes arranged all over the sitting room floor Saturday afternoon. My kids were avoiding me after they heard me arguing with the computer a few too many times. At about 8:00 p.m., the Webmaster called: "Uh, Jay… can I at least have the top 10?" It was done by Sunday morning. There was some stress, but you learn a lot under fire. Next time will be better.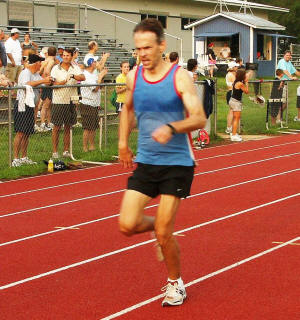 One other important point: I must stress how critically important all the folks at registration table and finishing chutes are. Without their coordinated efforts the scorer's job would be impossible. These races are a true team effort. Thanks everyone.
Anything runners can do to help the scorers and other race volunteers?
1. Pre-register!
2. Stay in order in the chute until your bib strip is pulled.
3. Fill out your finish card.
4. If for some reason you jump into a race WITHOUT REGISTERING, PLEASE stay out of the finishing chute. This delays and complicates results processing for everyone else. 
5. Thank the volunteers for a race well done. They do a lot for us.