Lake, Woytalewicz run into Palace Saloon 5K history
Herb Wills, April 10, 2010
On a perfect Tallahassee morning for distance running, Chris Lake ran away from a field of 1200 runners to win the 36th annual Palace Saloon 5K on Saturday, 10 April 2010. Lake made the dash from James Messer Fields Park to the Palace Saloon in 15:45, 21 seconds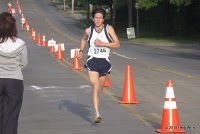 ahead of runner-up Daniel Lee. Jay Wallace set the pace for the master men, winning the 40-and-over division in 16:45 and finishing seventh overall, while Tim Unger was top among grandmaster men, placing 16th overall in 17:56.
The women's division turned out to be a duel between Christina Woytalewicz and Amy Hines. Hines had lost a similarly close Palace Saloon 5K to Lisa Johnson the previous year, 18:11 to 18:15. Racing Woytalewicz, Hines improved on her 2009 performance, running 17:45. Woytalewicz, however, clocked 17:42 for the win. The previous evening, just over twelve hours earlier, Woytalewicz had run a 10:29.20 3,000m at the Seminole Invitational track meet. Among the women masters, Thomasville's Mary Anne Grayson successfully defended her title, running 19:49. Fran McLean was the top grandmaster woman, running 21:37.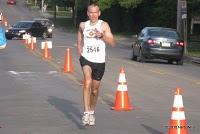 In the eighth year of team competition, WYSIWYG won the men's division with a cumulative time of 85:53, beating the 2008 record of 86:02 set by "The Fighting Shamandas." Led by Amy Hines, the "Swift Chicks" won the women's division in 96:17, beating the 98:53 total of the runner-up "Death Eaters." The "Swift Chicks" total set a new record, breaking the previous best of 97:40 set by "The Girls Club" in 2007.