Linton and Gutierrez try, try again...and win, at the Flash 12K
Herb Wills, Saturday, February 15, 2014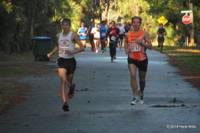 In 2012 Stanley Linton finished the Flash 12K second to Stephen Cox. In 2013 he finished the Flash 12K second to Kevin Sullivan. But in 2014 Stanley Linton finished the Flash 12K second to no one, winning the 26th annual race in 39:39. In the women's competition, Seeley Gutierrez had first run the Flash in 1999, but at the 2014 race she picked up her first title in four tries, finishing sixth overall in 45:20. Gutierrez' time was the fastest run by a woman in the race since 1998, when Sarah Williams posted a winning 45:12.
More than 300 athletes gathered in St. Mark outside Fort San Marcos de Apalachee on Saturday morning, 15 February 2014, to run either the Flash 12K or the concurrent 6K race. Stanley Linton and 2006 Flash 12K champion Vince Molosky quickly left the rest of the field behind, running side by side. After two kilometers, as the runners headed north on the St Marks Trail, Linton edged ahead, opening a gap. By four kilometers Linton had widened that gap to 100 meters. That lead grew to more than 600 meters by the time Linton returned to Fort San Marcos and the finish line, winning the 12K in 39:39. Molosky was runner-up in 41:48. Zach DeVeau took third in 43:16. Carl Nordhielm was the top master runner in the race, finishing fourth overall in 44:38.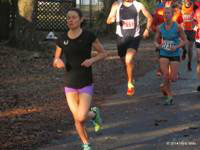 Four kilometers into race Seeley Gutierrez and Emily Ness were just a few steps apart, leading the women's field. Ness fell back, though, leaving the race to Gutierrez, who went on to win the women's race in 45:20. Katie Sherron, the top woman at the 2012 Flash 12K, was second in the women's standings, 18th overall in 48:45. Mary Anne Grayson of Thomasville, Georgia, was the third woman finisher and the first woman master, 33rd overall in 52:13. After challenging for the lead in the first half of the race, Ness was the fourth woman in the 12K, 34th overall in 52:45.