Rex James Cleveland – March 4, 1939 – September 14, 2016
If you would like to add a tribute to Rex on this page, submit to webmaster.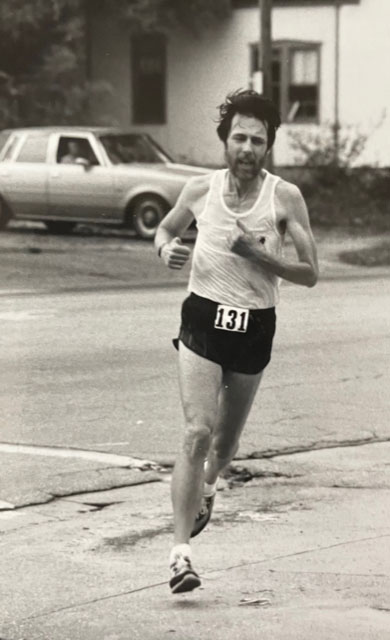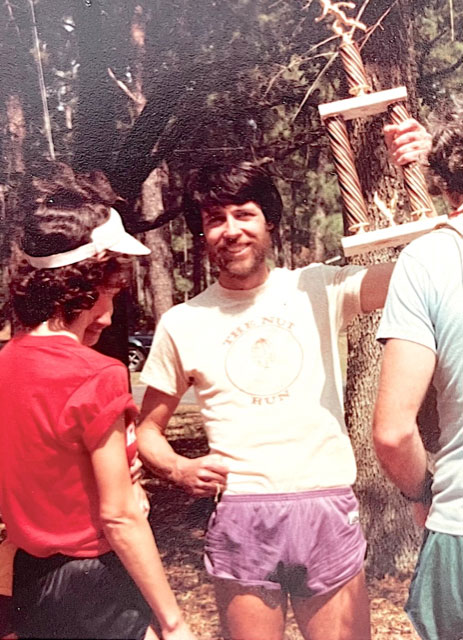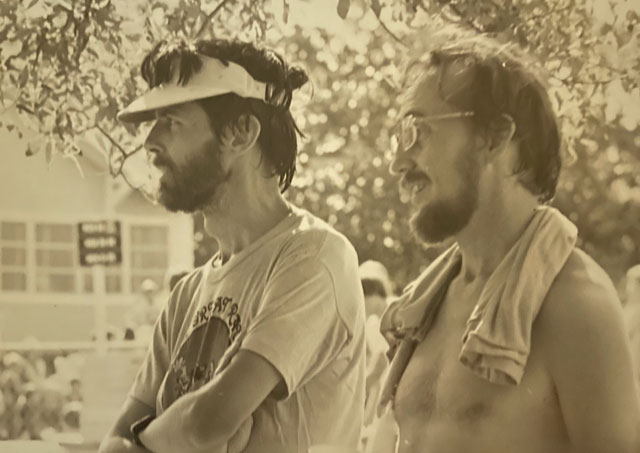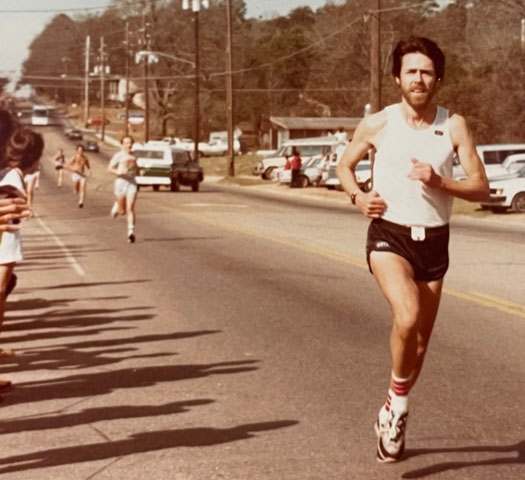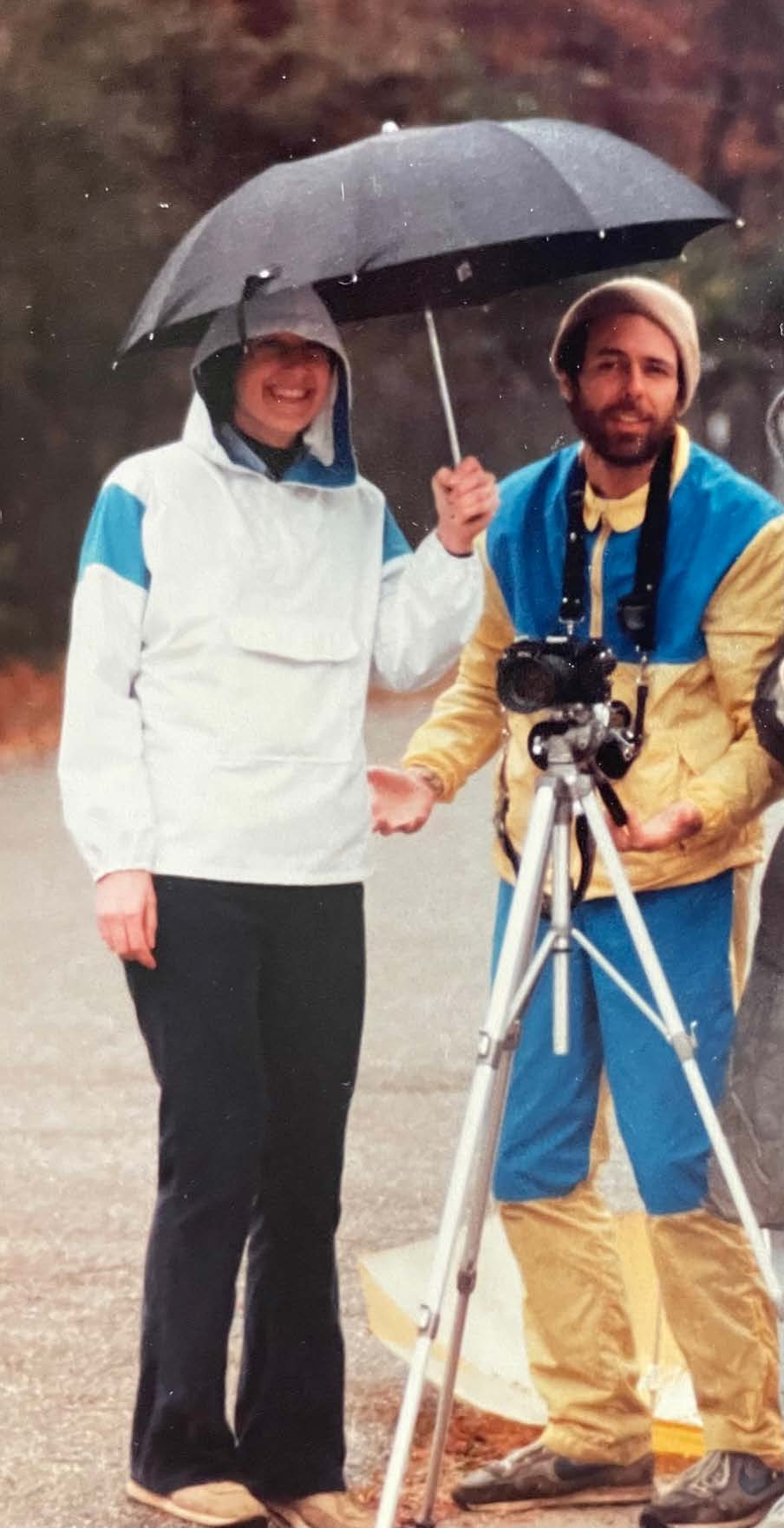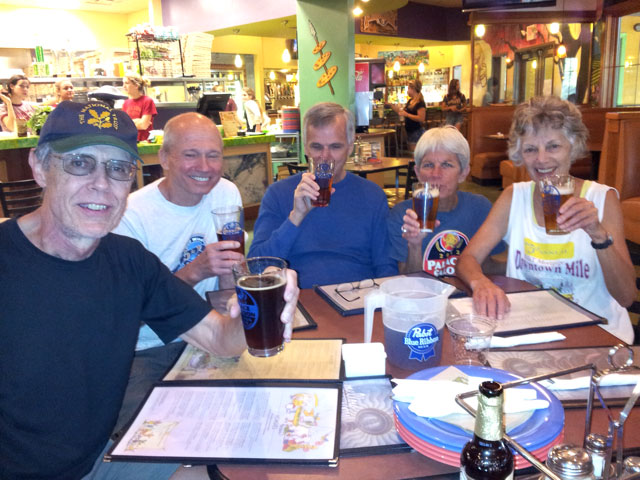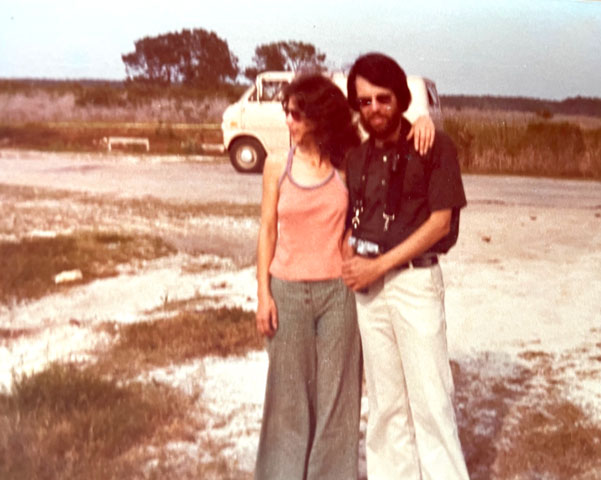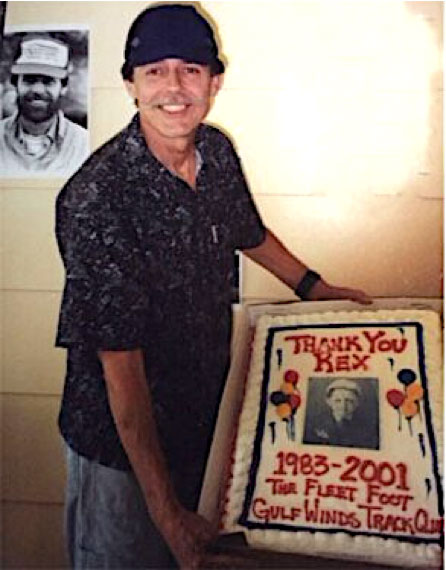 Joined Gulf Winds Track Club in 1978
The Fleet Foot Editor and photographer 1983-2001
Received first Caldwell Award (advancement of the sport), 1984 (FF Feb 1985, p. 10)
Inducted into GWTC Hall of Fame in 1991 (FF Feb 1991, p. 15)
Initiated GWIND List, a members-only discussion group, in 1999 (FF Oct 1999, p. 10)
Placed in top 3 of his age group 13 times in first 17 years (1984-2000) of GWTC Grand Prix
Obit: https://www.legacy.com/us/obituaries/tallahassee/name/rex-cleveland-obituary?id=14821261
In 1978, soon after joining Gulf Winds Track Club, Rex submitted articles to The Fleet Foot about local runners and area running events.
In the beginning of The Fleet Foot, there was quite a bit of editor turnover. The editor job was time consuming and required a great amount of coordination. The editor needed to gather together an event calendar, run down race reports, type commentary, make copies, print labels, and mail the newsletters, which was all before personal computers, publishing software, and digital photography.
In 1983, well acquainted with Rex's broad knowledge of the running scene and his ability to communicate with Club members, GWTC asked him to take the lead and Rex agreed. In his initial issue he said of those first editors, "we owe them much. The newsletter is more impressive because of their efforts." And, indeed, it had come from a single-page typed 8-1/2" x 14-1/2" sheet to a classy 5-1/2" x 8-1/2" multipage publication with a cover photo. Rex would be able to focus on content, which became his outstanding contribution.
At the time, Rex worked for the State of Florida as associate editor of a state publication, The Florida Vocational Journal, a job he enjoyed. He has said that probably influenced him to say yes to the Fleet Foot. And, he had his own darkroom so he could develop film and print photos.
Really, the timing was right for Rex and for all Tallahassee runners, wanting up-to-date club news and racing information considering there was no internet, let alone mobile phones and texting, and no Facebook to get the latest news, post photos or join a conversation. The Fleet Foot was the runners' communication. David Yon said it best: "The newsletter became the guidewire for connecting the Tallahassee running community. The Fleet Foot ruled."
A popular Fleet Foot feature was Rex's Point to Point in which he shared not only his knowledge of the national and international running scene but kept our community informed about us—who got married, who increased the GWTC membership with their newborn, which Club members competed in National events, and who placed third in her age group and won her first ever award. He delighted in capturing the serious and the fun sides of running. More than one runner wondered how they would get by without Point to Point after Rex retired.
When Rex was presented with the Caldwell Award, Rod Anderson stated, "Under his editorship the 'Fleet Foot' has become one of the finest newsletters in the South." The Road Runners Club of America agreed and awarded the FF "best regional newsletter" in 1987.
Club members, when asked about Rex, the person, had these words to say: Rex was easy to talk with; he had a calming manner that put one at ease; he was witty and entertaining, encouraging and a good listener; he had an engaging smile; was patient yet persistent. All these characteristics served him well as editor and friend and with his running.
Rex ran cross country in high school and enjoyed the team rivalry and camaraderie. So at age 38 when he started back running, there was no hesitation to jump into road races. He was often plagued with injuries but with determination and patience he bounced back with some impressive performances. He won his share of masters and grandmasters awards and placed among the top three in his age group 13 times the first 17 years of the GWTC Grand Prix competition.
Rex was inducted into the Gulf Winds Track Club Hall of Fame in 1991. At his retirement as The Fleet Foot editor in 2001, the GWTC Caldwell Award was renamed the Cleveland-Caldwell Award.
David Yon originated and directed the Rex Cleveland Magic! Mile in memory of Rex in 2016. This year after much consideration, current race directors Myrna Hoover and Toma Wilkerson agreed with me that we retire the Rex Cleveland mile and start a new trend—a memory section on the Club's website. The GWTC Board supported the idea of a Rex Cleveland Memorial Page. Peg Griffin immediately volunteered her skills and patiently worked out the design on the Club website.
I know Rex would be proud.
Mae Cleveland
September 14, 2023