The Chenoweth Endowment Fund: A Dean and Jenny Chenoweth Legacy
Memory Lane with Mae Cleveland, 
This year is the 20th running of the Pot Luck Bash four mile run. The event began in 1988 as a fundraiser for the Chenoweth Endowment Fund, but the Chenoweth legacy goes back to 1981 when Dean Chenoweth, champion hydroplane racer, stepped up to co-sponsor the Turkey Trot 15 kilometer race.
Dean, a resident of Tallahassee from 1973 and owner of the Chenoweth Distributing Company, loved running (he ran eight miles every morning before going to his office) so it was not difficult for Shannon Sullivan, owner of Sports Beat and a Turkey Trot sponsor, and Mike Eakin, GWTC president, to talk Dean into co-sponsoring the Turkey Trot. He was hooked after that first year and wanted to make the race a premier Tallahassee running event. Known internationally for his boat racing, Dean Chenoweth was a four-time National Hydroplane Champion, four-time Gold Cup Champion, and held numerous other boat-racing titles and records, beginning at age 15. He piloted the famous Miss Budweiser hydroplane. On July 31, 1982, Dean was attempting to qualify for the Columbia Cup Race on the Columbia River in Washington state when his boat flipped over, presumably landing on top of him. He was pronounced dead shortly after at Kennewick General Hospital of a crushed chest and other injuries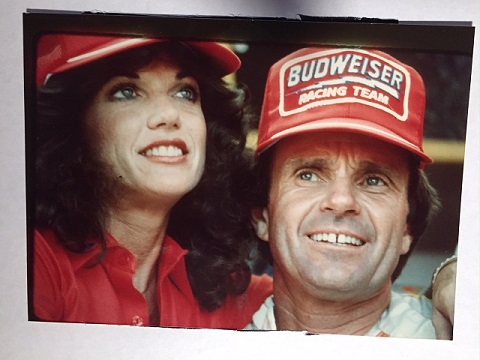 . Dean was 44 years old.
In 1982 the Turkey Trot was renamed the Dean Chenoweth Memorial 15 Kilometer Race. Jenny Chenoweth, Dean's bride of nine months, was determined to honor Dean's commitment to keep the Chenoweth-Gulf Winds Track Club relationship alive and, though not as avid a runner as Dean, she ran the race that year in honor of Dean, wearing race bib number 1. As president of the Chenoweth Distributing Company, Jenny continued to support the race and committed to making it a premier running event.
Jenny had contracted hepatitis non-A or B liver disease while in college, undergoing a tonsillectomy in 1967. After living with the disease for many years, she was put on the donor list and in 1987 a donor was found. Jenny underwent liver transplant surgery on June 14 at Deaconess Hospital, Boston, Massachusetts.
The Fleet Foot editor reported in the July 1987 newsletter: "As we went to press… this space was filled with a story of Jenny Chenoweth finally receiving a long-awaited liver transport in Boston. She was in critical, but stable condition, the normal situation after such an operation, and everyone seemed to feel she would pull through. The story proposed a major effort to astound her with stacks of cards from fellow Gulf Winds members. Mary Register had said Jenny just loved to get cards. But we're sorry to say she didn't make it. Jenny Chenoweth died on June 22. The Chenoweth Distributing Company has been a major supporter of Gulf Winds Track Club and running in Tallahassee for many years. Since the death of her husband, Dean, in 1982, the person behind all that support, which seemed greater each year, was Jenny. We've lost a great friend." We also lost a warm and generous individual.
The Chenoweth distributorship continued to sponsor the 15 kilometer race, but Mary Register wanted something more to honor her friends, Dean and Jenny Chenoweth. Race director David Yon suggested an endowment fund and Mary was immediately on board, even made her own supportive donation. David presented the idea at the November 1987 GWTC business meeting. The Dean and Jenny Chenoweth Endowment Fund was established at the January 1988 meeting. The Club donated $1000 in support of the Fund. The Pot Luck Run was held in June to raise funds for the Endowment.
Al Smith, a student at Gretchen Everhart School, received the first Chenoweth Endowment Fund award of $150 in October 1988 to help with expenses toward the Special Olympics Marine Corps Mini-Marathon that year. Over the years the fund has a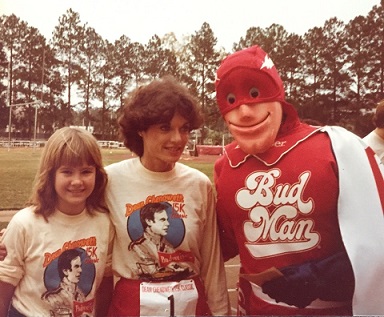 ssisted many athletes, including Gulf Winds Track Club members who qualified for a specific event, but mostly students who through persistence, discipline and outstanding achievement motivated their coaches to nominate them for assistance through the Chenoweth Endowment Fund. A description of the fund, the current guidelines and other information can be found at gulfwinds.org, under "Grants."
The Chenoweth-Budweiser distributorship last sponsored the race in 1989. In 1992 the race was held on Thanksgiving Day and reverted to its original name, the Turkey Trot. Over time the memories of Dean and of Jenny Chenoweth may have faded for many but Dean and Jenny continue to touch the lives of athletes through the Chenoweth Endowment Fund. May their legacy live on.
Mae Cleveland
Many thanks to Mary Register for information and photos for this article. Dean Chenoweth hired Mary as his office manager in 1980 and she became a very close friend of Dean and Jenny. Mary has been a member of the Chenoweth Endowment Fund Committee since its inception.
MC