Off the Beaten Path – Stetson Tails
David Yon,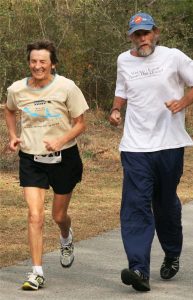 "When did they let the Unabomber out of jail?" asked Lt. Colonel Fred Johnson one day as he ran the Lake Overstreet Loop. He had just met Dana Stetson, not Theodore Kaczynski. But, if you know Dana, you know he takes pride in making sure things are never quite what they appear to be. Dana has a unique ability to go from a long flowing beard and wild hair that would make any mountain man proud to a clean shaven, almost respectable look, and then back in seemingly no time. Whether it is leading a blind runner along a race course, competing in a race under an assumed name, running all night to support a good cause or waxing eloquently on the latest issue of the day, Dana brings his own unique talents and prospective to the world of running.
His first love appears to be ultra running, but his sprawling finishes across finish lines of all distances from 5K up demonstrate his running versatility is as great as his intellectual range. Dana tackles these races like he does life, flinging himself across the finish line with nothing left and always challenging something he doesn't believe is right. We have all reached for our cell phones at least once thinking we were going to call 911 as he flailed on the ground after finishing a race producing foam, moans, groans and other noises that convinced you he was not going to survive. And many have been touched by a book he has recommended that opens our eyes to something new. One thing that never changes though is his loyalty to friends and willingness to help out.
On Saturday Dana joined forces with Kate MacFall and Kendra Hill to help the many critters at the Tallahassee Animal Center as they directed and produced the Seventh Annual Tails and Trails Run. The event included a one mile fun run and more serious races of 5K and 10K. And since Dana created and measured the courses, as you might expect, they were unique. First, the 5 & 10K races finished going up a hill that was rocky, rutty and steep. Second, the courses are longer than advertised. The 5K is most likely closer to 3.4 miles than 3.1 and the 10K might be as much as 6.4 or 6.5 instead of 6.2. (As Dana noted, "Just keep running past the six mile mark and you will see the finish.") Finally, the courses are almost entirely off road on the beautiful narrow trails of Tom Brown Park and Lake Lafayette Heritage Trail. The 10K turns around on a dike in the middle of the lake. They are tough but gorgeous courses. Despite the difficulty (or maybe because of it) and uncertain distances, the race draws a crowd every year with a record setting turnout of more than 400 runners finishing either the 5K or the 10K this year (and maybe another 50 in the mile run) and an expansive list of sponsors helping make it a financial success.
The event serves as a fundraising and community service event to aid the homeless animals in the care of the Animal Service Center. Their odds are not very good so the help really matters. Last year two of the abandoned creatures (cats) figured out how to break free and get adopted by our family. They were quite happy to celebrate their first anniversary safe in our house as we headed out for the race this year. The Tallahassee-Leon Community Animal Service Center is a regional animal shelter, owned by the City of Tallahassee, which took in an amazing 10,660 animals in 2007.
Back to the Humans, it was Vince Molosky adding to his race win total with a winning time of 37:23. Chris Coutts was second with his time of 40:03 well behind Vince. Karen Geletko was the top woman in a time of 41:55. Kristen Baggett was second and top master in a time of 49:34. Steve Barraco showed that he is back in good racing form by winning the master and grand masters title and just missing out on second place with a time of 40:08. Hanging around the finish line afterwards Mr. Stetson had a gleam in his eyes that just wouldn't quit as runners struggled up the giant hill to the finish muttering about how long it took them to cover the last tenths – and what great fun they had endured.