Annual Awards 2000
More than 100 people showed up at the 2000 GWTC Awards Ceremony at the American Legion Hall to celebrate the recognition outstanding efforts by GWTC members. Tom "speechless for the first time" Perkins became the newest member of the GWTC Hall of Fame. Tom's efforts on behalf of GWTC have been nonstop and a great example of what the club is all about.
On a night when "family" seemed to be the theme it seemed appropriate that Tim "has anybody seen my team" Unger and Tim "Superman ain't going to let no kryptonite stop me" Simpkins shared the overall male grand prix award. Tim Simpkins set aside the cancer pain to accept his fourth overall title. Tim Unger joined an elite group when he successfully defended his 1999 title. Sarah Docter-Williams made it three years in a row by taking the women's title in 2000. Grand Prix champ though does not necessarily make a Runner of the Year.
Those titles went to Fran "roller blade mama" McLean and Greg "the hippie" Waddell. Both had outstanding years both in terms of racing and supporting the running community.
Volunteer of the Year went to Peg and Gary "its-not-our-fault-blame-it-on-the-volunteers that this was the best marathon in Florida" Griffin, Race Director went to Paul "only the tough courses count" Hiers, Triathlete went to Malissa "it takes three Ironmen to wear me out" Aucker, Community Award went to Manny "Mr. Spaghetti" Joanos and the Cleveland-Caldwell Advancement of the Sport Award went to David "sleepless in Tallahassee" Yon.
Click on hyperlink for the full nominations for each winner.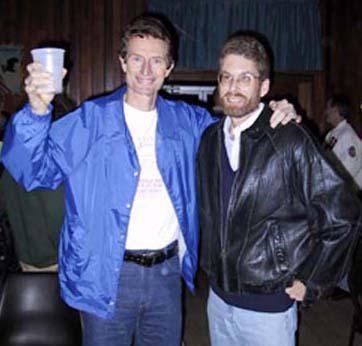 Tim "Superman" Simpkins and Tim Unger congratulate each other after winning the Men's Overall Grand Prix Award.
Photo by John Kalin
Complete list of award winners.