Boston's Cold Shoulder Overcome
David Yon,
Boston is not always a hospitable town. The Tallahassee and Boston Marathon shared one inhospitable thing in common this year – thunderous downpours that made finishing very hard for the runners. Birgit Maier-Katkin and Tsige Tadesse made the flight from Tallahassee to Boston, hoping for better weather conditions than the early warnings being given to the runners. But by the time they arose from their beds on Marathon Monday, the storms had moved into place. The Patriots' Day weather forecast by David Epstein of Boston.com read as follow:
Marathon Monday has arrived, and … [A]fter the record cold on Sunday and a bit of freezing rain and sleet overnight, temperatures will slowly warm about 2 degrees per hour throughout the day. Monday morning temperatures in the upper 30's will warm to the mid-40's by the time the elite runners cross the finish line around noon. …. It will be gusty too, with winds as high as 35 miles per hour … mainly be a headwind for the runners, driving rain into their faces.
One of the charms and complications of the Boston Marathon is the point to point course that starts almost 26 miles away from the finish line. The number of runners in line the first year (1897), 15, was hardly a big deal. In recent years that number has settled in around 30,000 runners, enough to overwhelm a start area on a wet, cold day.
But when our heroines bundled up at 7:30 in the early morning hours of Marathon Monday to start their trek to Hopkinton, "there was a downpour," Birgit reported. Tsige, stated: "Race day, Birgit and I bundled up and walked to gear check and then to our bus; we were already soaked and cold." The bus ride was a chance to warm up and enjoy the chit chat of other runners and held on to the hope that it might not be all that bad." That thought would end as soon as they got off the bus.
Tsige reported: "The hardest part was, when we got to the athletes' village; the rain was soaking everything. We could not get under the tent because it was so muddy. Birgit and I joined some people who were standing outside of the Cliff Bar tent. My shoes were still wet and I was cold. Luckily, they invited us inside for brief warming session. But after 10-15 minutes it was time to walk to the start line. By then I could not feel my toes and I was shivering."
"By the time we entered our starting coral at Hopkinton town center," Birgit wrote, "my toes were numb, the bottom of my feet felt like an ice-block and I wondered how I would be running in my wet socks and shoes for the next four hours. By 10:50 am when we finally began to run, I was sure that my right big toe was developing a blister. At this point, I summoned my mental forces: I recalled my qualifying race, the hours of training, yoga sessions, the Coach's explanations about the course, the many strength training exercises and time I had put in to get to this starting line. I had joined the online training program of the McMillian Run Team and had followed a specific downhill Boston training plan and felt well prepared and ready to take on this race." Birgit also recalled her mantra "Be Rain" which she picked up at the "Art in the Age of the Internet" Exhibit at the ICA-Boston a day before. "These words became a major inspiration for my run and helped me mentally to embrace the weather and not fight it. I just ran the course as I had trained. In the beginning I thanked as many volunteers as I could at water stations and marveled that they and so many spectators had come for our run."
Sometimes it is best to just start running. Tsige described her own explerience: "Surprisingly enough, when the race finally started I settled in to a comfortable pace and by mile 6 I had to get rid of my second shirt because it was heavy from the rain. I kept telling myself, 'I can't let my family down.' They believed in me. The morning of the race I received a text from my daughter and husband telling me "You can do it" and I really wanted to cross the finish line for them and my friends."
By mile 23 the cold had returned to Tsige and she reported that her feet were heavy. By mile 25 she could not feel her feet and had to slow down, listen to the crowd and just keep moving. "I was amazed at the energy of the volunteers, I still can't believe they were out there supporting us despite the horrible weather.
When I finally crossed the finish line I did not know my time. I really wanted to cry when my husband told me my finish time and realized I had qualified for Boston once again. Even though I sustained a tibial stress fracture and I am in boots for 4 weeks, it was worth every challenge I faced and I can't wait to be back next year."
Her reward was a finish time of 3:49.53.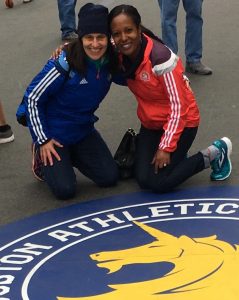 As Birgit entered the city, not far behind Tsige, she recalled her Coach's instructions: "enjoy the downhill and give it your all." Despite the cold and numbness she was experiencing, she found the miles clicking by untill finally…
As I turned on to Herford Street near the end, the wind gust became even stronger, the street was littered with plastic bags and clothing and the spectator crowd roared and fired us on. I was so amazed by the energy of the spectators. After my left turn onto Boylston Street, I could see the last finishing stretch. I ran my fastest pace yet (at least that is what my watch told me afterwards). I remember struggling to reach the finish line and thinking I am going to freeze in the spot, the last three steps felt like an eternity and I remember being afraid that either my muscles would stop working or that I would collapse before my feet could reach the timing mat.
Regardless of what she felt, Birgit finished in a marathon personal best of 3:53:54.