Potluck Bash - It's a Family Affair
David Yon, June 13, 2016
The sky cracked open, split in half by a window rattling bolt of lightning. Or was it the thunder that rattled the windows? It seemed the thunder and lightning were traveling together this time and I felt for sure I would find a huge hole in my front yard where they had ended their journey from sky to earth together. Perhaps it was really giant starter's pistol, signaling the start of the rain; sure enough the rain began to pound the ground washing away in minutes the chalk dust directions for runners in the Pot Luck Bash we had so carefully laid out earlier that morning. 
The Pot Luck Bash is of course an evening race, starting at 6:00 p.m. As I wrote a couple of weeks ago, the course runs 4 miles through the forests of Eleanor-Clapp Phipps Park, a treasure of serenity on most days. Trails cut everywhere though the property and it is very easy to get turned around and lost. The Pot Luck runners were going to be racing over a brand new course without watches or other means of timing. And now maybe without chalk.
Experienced race directors and volunteers understand that Murphy's Law is not an over worn epigram. Our team has been directing this event since 1999, so Murphy has had plenty of opportunities to extract a heavy price from race directors who take lightly the adage "what can go wrong, will go wrong." So, in addition to chalk we usually use caution tape and a few signs to keep runners on the right course. But as the rain continued to fall, something said we had probably not done enough. I grabbed every directional arrow sign I could find in my garage and headed back to Forest Meadows. The rain had slowed and soon stopped. Bill Lott and others were there and we managed to get enough additional directional signs in place to keep runners from getting lost. But I have never seen a course washed so clean of chalk.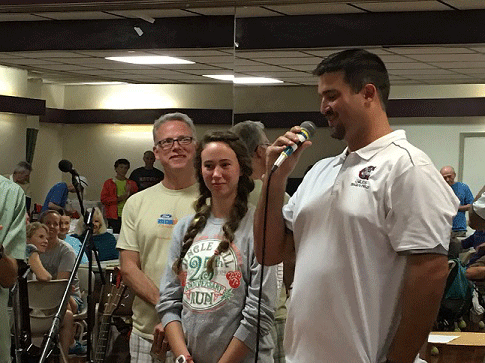 A big part of the Pot Luck Bash is to recognize the outstanding high school male and female cross country runners and the outstanding track and field athletes. It is a way, we all hope to build and keep bonds between generations. The top person in each category is eligible for scholarship assistance. GWTC has been making these awards since 1999 and the winners have always been talented. This year's winners kept that tradition alive. Cole Upthegrove was the Male Track and Field Athlete of the Year. He was all-state in the discus and the shot put, winning the shot (57-7.25) and finishing third in the discus (166-02). The committee decided to award two top Female Track and Field Athletes TeJyrica Robinson and Tamani Wilson. TeJyrica placed 3rd in the 3A state filings in the 100m hurdles, 300m hurdles and the 4×400. She was the MVP at the Jessie Forbes Invitational. Tamani competed in the 100, 200 and 400 meter races as well as relays for the same distances. She had the top time in the area in each of the solo events and finished second in the state in the 400 meter event. In cross country, Emma Tucker returned as the Female Cross Country Athlete of the year. She took third place at state this year in a personal best time of 18:13, good enough to lead her team to the state championship. On the boy's side it was Matthew Cashin, breaking 16 minutes and continuing the Leon tradition of great distance runners. Matthew was the top distance runner in the area and 4th at the state cross country meet.
In 2012 the winner of the Cross Country Male Athlete of the Year was a skinny kid from Wakulla High School named Stanley Linton. Among other things, his coach Paul Hoover, wrote about him in his nomination: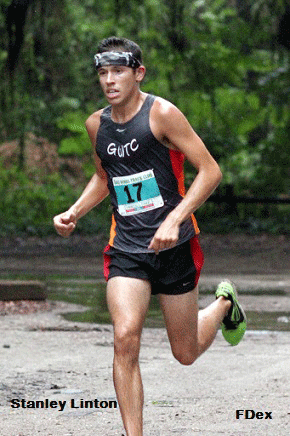 Other qualities which support this athlete's nomination include: 2011 Team Captain. Leader on the cross country team; outstanding ROTC career at the high school; school class officer; outstanding academic performance throughout high school with an unweighted GPA of 3.745; very active in GWTC races; placed in his age group for the 2011 Grand Prix and finally was a multiple time GWTC overall race winner.
Stanley Linton is the epitome of what the Chenoweth Committee wants to see. Stanley over came great skepticism to run for the talented Florida State distance team, and then came back to make his mark in Tallahassee before continuing his military career in flight school in Pensacola. In an effort to support and make this year's Pot Luck Bash race a success he took on the challenge of trying to break the record for fastest time on a Pot Luck course. Former Olympian Kevin Sullivan holds that title now. He ran 21:17 in 2013 almost 40 seconds faster than the second place runner, Stanley Linton, who ran 21:56. Stanley has been taking down course records all over the area as he barnstorms the area races before moving on to flight school. His challenge at Pot Luck however proved to be insurmountable on this day. First, the record would be tough to break on any Pot Luck Course, but on the course served up for this year's run, it was nearly impossible.
Within a half mile of the start runners were off the main trail and onto a narrow single track trail. While it was beautiful, it is impossible to run fast because of all of the twists and turns. Still, Stanley pushed it as he plunged down hill before running on the trail next to a raging river (ok, a rain swollen creek), past a rapid (for just a bit) and over a waterfall (I promise) running on a 4 x 6 piece of wood stretching across the creek. The course got back to wider trails after that, but it climbed up to a high point and then went down again. All in all it was too much for record breaking despite Linton's two and half minute win.
The good news – no one got lost and Martha Bademan-Guyas predicted her finish time would be 37:09. She stopped the clock at 37:08.96. The Pot Luck dinner and music gave everyone a reason to smile. Chef David Gwynn arranged for a special treat from Cypress restaurant that included pulled pork and shrimp and as usual runners and families brought a lot of great side dishes.
In the wake of another mass slaughter, this time not so far down the road from us in Orlando, I am glad we still have events like the Great Pot Luck Bash and Celebration where we can share an experience together, like family. When we see someone like Stanley Linton give back to his community the way he did in this race, making everyone feel like they were part of something special, we can still have hope that one day soon this madness will stop.