On Running a Race
By Lisa Unger,
Running a race has taken on whole new meaning as I begin planning my second year as Race Director of the Women's Distance Festival. Nine years ago, running a race meant huffing and puffing and hoping to make it to the finish line. Now, "running" the race means preserving the integrity of GWTC's only annual race that focuses on women by coordinating volunteers, designing t-shirts and awards, organizing finances, preparing refreshments and so many other details that pop up at the last moment. There really is no way to compare the two very different activities of participating and administrating, but many of the words and phrases used to describe each are the same!
In order to run a successful race and achieve a PR or win an award, a participant must plan ahead and train for the goal. In order to put on a great event that all participants enjoy, a race director must also start planning months in advance of the race date. Participants arrive at the race location early on race day morning and enjoy the company of other runners before, during and after the event. A race director arrives at the race location even earlier than the participants, but also gets to enjoy working with other great people who make the day so worthwhile and memorable. After participating in a hard race, feelings of exhilaration and exhaustion intermingle. I experienced similar feelings after the 2006 WDF event concluded and we were headed home. Since it would be very hard to answer the question of which I would rather do, participate or direct, I consider myself very fortunate to be able to do both.
Planning the 2006 WDF and completing all of the preparations was a great experience. I was so fortunate to have a dedicated co director, Jo Lena Pace, who brought many great ideas to our race as well as much assistance with the preparation. Last year I made notes and created a time line for all of our activities. This year we have been following the same schedule. We found that some of our ideas worked really well while others were just too hard to manage for so many participants. There are many details that for 2007 we are simply repeating exactly what we did in 2006. But there are also many details that we are definitely doing differently this year! All in all, it was such a great experience in 2006 that there was no way I could not want to do it again in 2007. Luckily, Jo Lena agrees.
This year the 5k and 1 mile are GWTC Grand Prix and Kids' Grand Prix races so we hope participation will be increased by members competing for points. However, this year we did not obtain any outside sponsorship money. Last year we had an advertised benefactor that we had hoped would generate more interest in participating in our race. This year we have simplified that concept by using GWTC and the Chenoweth Fun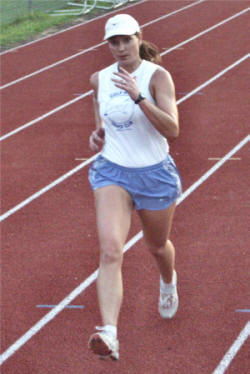 d as the sole benefactor of this annual club race. Last year we had many entry fee options that became confusing at the race day registration table. Luckily, we also had AWESOME and experienced registration volunteers who handled the confusion and chaos like champs! This year we streamlined the pricing structure and hope that it will help alleviate some of the stress on our registration volunteers.
So, now it's just about a month from race day and Jo Lena and I are well on the way to firing the starting gun. Having a year of experience and knowledge behind us, plus the notes of what went well and what did not from last year has made the planning and execution of tasks much more relaxed and orderly this year. We have learned that certain tasks can be handled in advance while others must wait until just before the event. For instance, awards and t-shirts have been designed and ordered weeks in advance of the event so that the limited and crucial time closer to race day is left free for organizing volunteers, stuffing pre registration packets and coordinating refreshments.
We are now at a point of coordinating volunteers and hoping for pre registrations to arrive in the mail. There are many volunteer positions that desperately need to be filled. Many of our volunteers enjoy the best of both worlds by completing their volunteer duties and also running in the race. If anyone is interested in helping with the 2007 WDF on Saturday, September 15, please contact Lisa Unger or Jo Lena Pace. Another way interested runners can help is to pre register. Our scoring and membership miracle worker, Peg Griffin, seems to have a magic wand that she waves and scores are produced, but that is an illusion. Peg works many hard hours to input registrants and score a race. The burden is definitely reduced by increased pre registration.
No matter which from which perspective you look at it—participation or administration– running the WDF race is a great experience that benefits the director, volunteers, runners and Gulf Winds Track Club.
Webmonster notes
Lisa Unger is one of those GWTC volunteers who, once given a job, tackles it with a cool thoroughness that completely hides the nervousness underneath. She has been a leader on the Grand Prix Committee for a number of years and a real "doer" at the Summer Track meets on Thursday night. She is a detail person who puts the time and effort into her work to make sure things go according to plan. A little over a year ago she was taken by surprise when asked if she would be willing to direct the Women's Distance Festival. Thank goodness she said yes. This race, like so many of the GWTC races is a special one. It honors the achievements and spirit of women in the sport of running. We don't have another one like it. I expect this race will flourish under Lisa's leadership and persistence. As a way of encouraging others to jump into new challenges, I asked Lisa to tell her story. And what a treat to read just how much she enjoyed it in her story above.