Thanks to the efforts of member Phil Yon, GWTC played a major role in organizing and supporting the S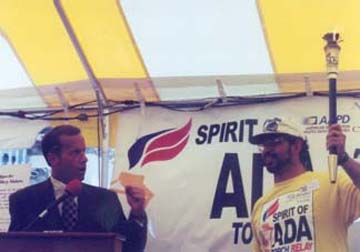 pirit of American Disabilities Act Torch Relay in Tallahassee. The club provided financial support, while Phil put in tons of hours. The Relay began in Houston, Texas on June 17 and visited 24 cities, including Tallahassee on July 17, Washington D.C. on July 25 (the 10th anniversary of the ADA) and finishing in New York on August 7th. Among the other cities included on the tour were: Austin, San Francisco, Los Angeles, Phoenix, Salt Lake City, Denver, Topeka, St. Louis, Madison, Chicago, Memphis, Jackson, Montgomery, Warm Springs, Atlanta, Columbia, Philadelphia, Auburn Hills/Detroit, Boston and New York City.
The American Association of Peoples with Disabilities issued the following statement explaining the purpose of the event:
The goal of The Spirit of ADA Torch Relay is to reach out to adults, children and communities in an effort to connect, inform, educate and involve the 54 million Americans living with disabilities. As we move into the new century, the relay will also further efforts for equality heighten awareness of the ADA and educate Americans about the disability community. The host organization, AAPD, is a national membership organization founded in 1995 to promote the political and economic empowerment of people with disabilities in the U. S.
Although Phil lost both of his legs to Berger's disease, a disease of the circulatory system, he has been relentless in his effort to help those who have disabilities by linking them up to the world at large through computers. If you have an old computer, he has someone who needs it and he will help set it up for him or her. His efforts have aided the elderly and the young. He is quick to visit and inspire those with disabilities. He has been a regular on the local racing scene setting a 5K PR on July 4 in Greensboro when he rolled his wheel chair over the 5K course in 19:08. He is now preparing, with other members of the Achilles Track Club for the New York City Marathon. If you have a computer that needs a home contact him at phil@nettally.com.
 
Thanks for the Help!
A word of thanks
I would like to take this chance to thank Gulf Winds Track Club for your support and sponsorship. The Tenth Anniversary of The Americans With Disabilities Act Torch Relay went off in grand fashion. We had 76 challenged people on a 10-mile course carry the torch. If not for sponsors like Gulf Winds it would have been impossible to put on such a large event. For those of us with physical challenges this was a very important day. We had ceremonies at Tallahassee Community College, Florida State, the Capital and FAMU. We had all kinds dignitaries such as the Mayor, Lt. Governor and more. The Gulf Winds banner was proudly displayed at the opening ceremony at the Double Tree Hotel and at the Civic Center at the big dance. On a more personal note I would like to thank all the members and other runners who have been so supportive of me in races. It means a lot to hear the words of encouragement especially when trying to push up some of the big hills. I've met a lot of really great people since joining Gulf Winds and look forward to many more races along side of all of you.
Thanks,
Phillip Yon