Volunteer Spotlight – Terry Massa
Judy Alexander, June 17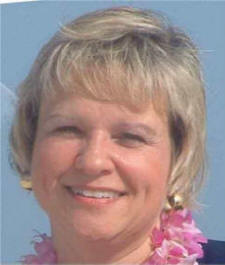 "What made me want to volunteer was the great feeling I had at my first 1/2 marathon at Disney and seeing all those volunteers cheer me on," says Terry Massa, who since 2005 has volunteered in more than 19 GWTC events, including directing her own successful Capital City Challenge 5K two years in a row.
Some people just jump in with both feet and that's what Terry did.  From traffic control to registration, aid station worker to finish line, race director to packet stuffer, she has worked the Beat the Heat Duathlon, Flash 12K, 10 Mile Challenge, Red Hills Triathlon, Springtime 10K, Miccosukee Madness cross country race, GWTC 30K, Owl Run and many, many more.  Terry is the quintessential volunteer in that she comes ready to do whatever the race director needs her to do.  She has learned the difference between cross country, track and road races, putting her knowledge and expertise to work each time she shows up.  Terry has also been a "first timers" group leader for several seasons at Nadine Dexter's Beginning Running Group and Running Boot Camp.  All this and she still has time to run a few races herself!
She encourages others to get out and volunteer, saying, "I think they need to do as the Nike commercial says, "Just Do It"  Go to the Volunteer Opportunities link on the website, locate the race calendar, pick a race, contact the director (hopefully about 2-3 weeks ahead of time, not the night before) and say you'd like to volunteer and do whatever they need."  This approach has served her well and delighted many a race director, to be sure!
When asked about being a part of GWTC in general, Terry is just as enthusiastic, "Attend a few board meetings to find out what the club is all about."