The Last Time – Jere Moore
David Yon,Photo "Jere and Charlie" by Fred Deckert, 
The last time I saw Jere Moore, he was sitting up in a hospital chair, oxygen flowing from a tube through his nose and into his lungs. One of those lungs had been reduced by a third in an effort to banish the cancer that was seeking to bring this special man down. Cancer would not win this time; pneumonia would do the dirty job instead. But on this day, the second visit since his surgery, it looked as if Jere Moore had much time left. It appeared he had won an early battle and he had set a goal – to finish one of the Turkey Trot races on Thanksgiving Day – that showed he was ready to tackle this challenge. He was full of life and, of course, dignity. While he knew his task was not going to be easy, he gave no hint of bitterness and there was no whining.
On Saturday, Charlie Yates did something he has not done often lately. He finished a race, the Sickle Cell 5K, without Jere Moore by his side. Over the past several years the two friends have looked out for each other in a multitude of races. Sometimes they got lost together in the woods of Silver Lake, the Forest at Eleanor Phipps property, and who knows where else. They started races early and finished them late. Charlie's determined shuffle was not quite as quick as Jere's more fluid stride; but they took care of e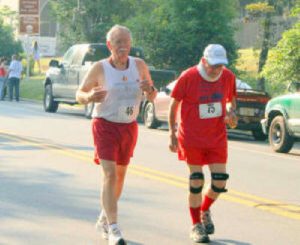 ach other. Saturday though when Charlie stopped the clock at 54:13, Jere was not around, at least not in this world, to share the moment with his friend. Jere Moore's clock stopped the day before when the pneumonia that set in after the surgery claimed his life.
Perhaps it was fitting that the Sickle Cell race was the first without Jere. Ervin Holiday and his team work hard to raise money and awareness to help fight another terrible disease, Sickle Cell Anemia, and they have always done their best to keep alive the memories of Tim Simpkins, another GWTC member who lost a battle to cancer. There were more than 300 runners and walkers starting from Jake Gaither Recreation Center on Saturday in support of this cause. Chris Lake was back to claim his second straight 5K win, this time in 16:05. Gary Droze moved up a spot from the week before to take second place in 16:49. Sheryl Rosen took time off from her law school studies to claim the women's title in 19:11. Lindsay Thomas was second in 20:55.
Perhaps it was the Associated Press or Florida Times Union reporter in Jere or maybe the retired Army Colonel that produced the direct honest approach he employed. He never hesitated to tell someone they could do better and then help them do just that. I will never forget one chaotic Thanksgiving morning he challenged us to do better with parking cars at Turkey Trot and then organized volunteers to help make it happen. His fellow Kiwanis club members have helped park cars for the race every year since. It was his nature to look out for his friends and fellow runners whether it was finishing a race with them, as he did with Charlie, or learning the "defibrillator hand shake" to share the experience of the little device that keeps the heart ticking at the right pace with Mary Jean, my wife.
Seventy-six years just doesn't seem enough for a man with such dignity. Jere we will miss you, but we count ourselves lucky to have known you.