Quite often, Gulf Winds Track Club's Palace Saloon 5K has been an epic road race. The winners have been a big part of that epic. Here are some pictures of the overall winners, men and women, for the years 2007 to 2018. That's a dozen years and two dozen winners–four six-packs of champions. I was directing or co-directing the race in some of the earlier years, so I am going to use that as an excuse for the weaker photography back then. The later years? That's all on me.
Twelve years of Palace Saloon 5K winners, 2007 – 2018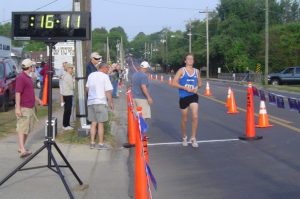 2007 Men's Champion, J. P. Cook
16:12
J. P. Cook was the first of 537 finishers at Gulf Winds Track Club's 2007 Palace Saloon 5K. One of many Florida State University trackmen to race the Palace over the years, Cook cruised to a 16:12 win on Jackson Bluff Road. Tripp Southerland was a distant second in 16:39.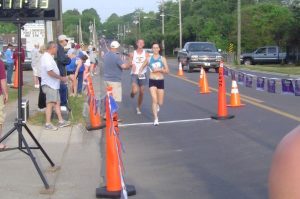 2007 Women's Champion, Breeda Dennehy-Willis
17:14
2007 was the last year that Breeda Dennehy-Willis would run the Palace Saloon 5K. She went out a winner, running 17:14 and collecting her third Palace title. It wasn't the Irish Olympian's best time on the course; that would be the 16:31 she ran in 2005. Lara Shaw was second in 17:55, and a Tallahassee schoolteacher named Lisa Johnson was third in 19:06.