Volunteer Spotlight Longtime Club Members Keep Hanging Out at the Races
by Mae Cleveland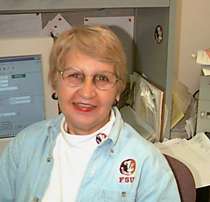 Jean Bowling joined Gulf Winds Track Club in 1979 after moving here from Montreal, Canada.  She consistently placed in her grand prix age groups, the 50s, from 1988 to 1994, and still gave her competitors a run for their money for some years after that (like a 39:59 at age 67 in the 2004 Shamrock Scurry).  She has not been able to run since February 2007 due to severe arthritis in her knee, something not easy for her to deal with. 
Running was a big part of her life and volunteering offers the chance to hang around runners and to see long time friends from the Club.  Jean has always been a Club volunteer but now it seems extra special.  She was out bright and early at the Flash 12K in February to help with registration.  To quote Jean: "The last year has been very difficult for me, so by volunteering at road races I can once again feel close to something that was so very important in my life."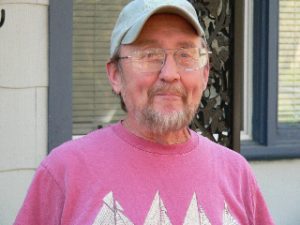 Rod Anderson, a Club member since 1978, was on the first Awards Committee which established our current awards structure and Grand Prix system in 1984.  The 30K was always a favorite race of Rod's and for many years he volunteered yearly at the race in the Wildlife Refuge, when not running the race.  His 30K PR of 2:08:49 was set in 1983 at age 44.  This year he was back at the 30K, volunteering at the 7 mile water stop with Gordon Cherr.  Since 2006 he has been part of Tim Brewton's Brew Crew, which is in charge of the first water stop near mile 2 in the Tallahassee Marathon. Rod had open heart bypass surgery in 2002 and he has run in a few races since then. To Rod, "Running is a social activity and if I am not running the races, volunteering  keeps my spirits up."  It also keeps him in touch socially with his long time GWTC friends.
If any of you youngsters (under 60 something) are not up to running a Club race some weekend, and especially if you are injured, get out there and volunteer at registration or an aid station, and if you are lucky you may be partnering with a Gulf Winds veteran, who could regale you with some GWTC running lore, which would definitely keep your spirits up.  The Springtime Tallahassee 10K race is March 31.  Call Judy Alexander, 383-1361, or email her at jalexander98@comcast.net to find out the many ways you can help.  Then, the Palace Saloon 5K is April 12.  Reid Vannoy, phone 591-7891, or Herb Wills, email HWills@PalaceSaloon.com, will be glad to sign you up to volunteer.