Only Heroes Take This Path, Part I
David Yon,
It is not always the fastest person who is the best hero. Sometimes you don't even have to finish the race to earn the title. Sometimes it is enough to see the path a person is willing to travel and the effort made to get as far as possible. The Western States Endurance Run is such a path. The historic trail passes through remote and rugged country side in the Sierra Nevada Mountains following trails originally blazed by gold and silver miners in the 1850's. Runners have a maximum of 30 hours to complete the trail and those who finish under 24 hours receive a special silver belt buckle. From the day he opened his inbox to find an acknowledgement that his application for the 2009 Western States 100 Race had been accepted, Gary Griffin began implementing his plan for conquering the mountain trails starting in Squaw Valley, California and finishing in Auburn, California 100.02 miles away. In the end, his journey would stop 21 miles before Auburn, but this week and next week, I want to tell you why it was still an extraordinary effort that makes him a hero. I have no doubt he will travel those 21 miles one day and I hope to be there.
To appreciate the magnitude of the Western States 100, one only need stand at the start line in Squaw Valley and look up at the first four miles of the course. Way up. Imagine standing at the base of a ski lift and watching the gondola disappearin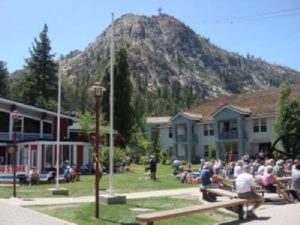 g off in the distance as it climbs loaded with skiers toward the upper slopes. Were you ever tempted to run instead of taking the gondola? Those upper slopes can look pretty intimidating to ski down.
On June 27 at 5:00 am in the morning, the lift was not working as 399 runners jogged through the narrow starting gates and up the mountain side. Their goal was to climb 4 miles from the base of the lift at 6200 feet elevation up the escarpment to Emigrant Pass at 8,750 feet. Most would begin walking within a half mile. And this was just the ticket to punch for the first cup of coffee. The morning air and altitude meant the temperatures were cool and more than pleasant. As we said goodbye to Gary he was more than ready, fresh and prepared for the challenges ahead over the next 24 to 30 hours. He had spent months, in some way years, planning for this moment and prepared well including having run a sub 20 hour 100 mile race. But there is only so much a boy from Florida's flat lands can do to prepare for the surprises that lay in wait along the Western States Trail. The climb was expected and the steepness was never a problem. But for a boy from the flatlands of Florida, the altitude extracts an unexpected toll.
What goes up must come down and that is exactly what happens next as the trail descends to Cougar Rock, where it levels out for a short while before screaming down into Duncan Canyon. For a runner it takes a lot of sarcomeres and filaments to handle this part. I didn't know what they were either, but I do know that running downhill can be deadly. The quad muscles are forced to elongate in a way that they are not used to and the unscientifically described results is they become "mush." It is, at least according to Owen Anderson, the number of sarcomeres and filaments in our muscle fibers that signal how much downhill running our quads can take. While we can train and increase them, those who train in the mountains (e.g., Kenyans) have a lot, and those who train in Florida tend to have very few. So while Gary's training included some downhill running, the fall into Duncan Canyon still chewed up most of his supply of sarcomeres even though it was nowhere near his last downhill challenge.
At the bottom of the canyon, a new foe waited – temperatures with three digits, over 100 degrees, created by a blistering and unforgiving sun. All along the way, veterans of the Western States 100 warned this year was one of the "really hot ones." Of course a boy from Florida knows about those triple digits and has a lot of time to train in them. But once you hit the bottom of the canyon, you had to climb out in that heat. And there really aren't many "flats" in Florida located at 6730 feet, but that is where the next stop, Robinson Flat, waited.
Despite it all, Gary arrived in Robinson Flat at 11:47 a.m. 6 hours and 47 minutes after he started. It was the first place his crew (his wife Peg, my wife Mary Jean and me) could meet up with him and he was still on a great pace. He looked a bit battered, but left no doubt he was still ready to go. Perhaps he was unaware of just how many sarcomeres had answered their last battle call. Robinson Flat, 29.7 miles into the race, was filled with runner crews, enthusiastically greeting their runners and making new friends they would meet many times again during the long day. It was still a place of great hope and where runners had felt a few blows but were still on track.
The trail out of Robinson Flat headed downhill again. It crashed down toward Miller's Defeat, through Dusty Corners and pauses for a moment in Last Chance. At this point the trail had already dropped more than 2100 quad mashing feet. Aptly named, it was the last chance to avoid the brutal ups and downs and 100 plus degree temperatures of Deadwood Canyon and El Dorado Creek Canyon. The trail drops about 2000 feet to the bottom of Deadwood Canyon and then climbs back out 1500 feet to Devils Thumb. It is enough to finish off a beat up, sarcomeres short, set of quads. And all climbing out does is get you to the edge of El Dorado Creek Canyon, a more gradual, but deeper descent of 2600 feet. The good news is the climb out is "only" 1800 feet. At the top is Michigan Bluff and the second chance of the day to find Gary's loyal support crew. We were there and offered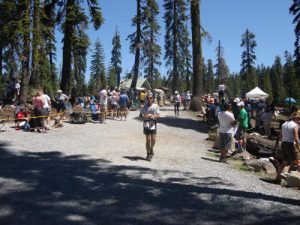 all the support we could. But it was clear; the canyons had taken a huge toll on Gary.
The burned up quads had led to a change in his stride. Gary began trying to run more up on the balls of his feet to cushion the blows to his aching quads. It had a devastating impact as his feet were not prepared for the extra friction in the high heat and soon blisters formed. Throw in a little trail dirt and each step soon became a painful excursion into a rough path home. Michigan Bluff is more than 55 miles into the race, but the Western States Trail is nowhere near done torturing its race participants at that point. Yet, Gary pressed on resolute to continue. And next week we will tell the rest of the story.