Stoltz Goes to State - Where Tallahassee Shines
by Jana Stolting, November 23, 2008
This cross country season sure went out with a bang. The state meet was filled with drama, excitement, and upsets, a combination that always makes for great running. The Big Bend was well represented on both the individual and team podiums, proving what we have known for years: Tallahassee is the distance running capital of Florida.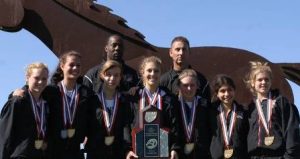 The 3A girls' race was won decisively by the seemingly unbeatable women of Chiles (pictured above). They were led by a third place finish from Lily Williams, who ran a time of 17:51. All of their top five runners came in under nineteen minutes and finished in the top ten, a remarkable feat at any race, much less the state meet. The Leon girls placed sixth in this very competitive race, led by an eleventh place finish from Claire Stodghill, who ran a time of 19:01.
The Leon boys brought more glory to the Big Bend with their victory in the 3A boys' race. Matt Mizereck placed first with a time of 15:16. Close behind was teammate, Will Stanford, in second with a time of 15:20. This is the second year in a row the Leon boys have taken home the state title, and with their youthful team and dedicated coaching staff, it does not appear the trend will be changing anytime soon. In the same race, the Chiles boys took thirteenth, led by Brandon Lingerfelt (43rd with a time of 16:54).
In a highly competitive boys' 2A race, Godby finished eighteenth. The cougars were led by Dieumy Duclos, who finished thirtieth with a time of 16:35. Teammate Kendall Matthews finished in fortieth place with a time of 16:45. With their top two runners in only tenth and ninth grade respectively, and only one senior in their top seven, Godby will prove to be very competitive next year.
In the girls' 1A race, Maclay placed fourth, two spots ahead of their ranking and only one point behind the third place team. They were led by a fifth place finish from Jana Stolting, followed by an eleventh place and 19:10 finish from Shelby Salimone. The marauders will only be losing one runner out of their top seven to graduation, and will be gaining both the Fenley sisters (who moved to New Jersey for this year) and middle school phenom, Stefanie Kurgatt next year. It appears Coach Droze will have a very exciting cross country season in 2009.
The boys' 1A race was perhaps the most exciting of the day. A tight pack was established early on, and coming into the final straightaway, only two remained: North Florida Christian's Whitney Strickland and Maclay's Patrick Swain. As they kicked their way up the final hill into the finish, Whitney faltered and Patrick surged by, holding on for the win a time of 15:51. Strickland struggled across the finish line and collapsed (finishing sixth overall in a time of 16:15). He was transported to the hospital and hooked up to an IV but, thankfully, released later that day. Swain's first place finish allowed the marauders to take third overall, backed up by a tight pack led by Patrick Griffin (21st in a time of 17:04).
This season has certainly been one for the record books. It was equal measures shock and awe, along with a good dose of optimism for the future of distance running in the Big Bend. The state meet may be over, but in reality, the biggest meets lie ahead. This coming Saturday, some local athletes will make the trip up to North Carolina to compete in either the Footlocker South Regional Meet or the Nike Team Meet. With state performances like the ones we just witnessed, there is no telling what could happen at these post-season showdowns.
Local athletes represented Tallahassee at three separate venues this past weekend. Each competition provided yet another showcase of the outstanding talent of the Big Bend. On Friday, Maclay hosted the Last Chance Meet, which, as the name implies, gave...