Wilde Mountain Scramble Report
January 1, 2020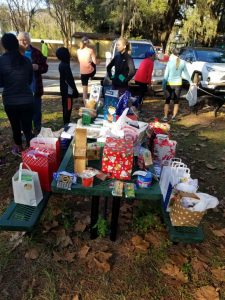 32 runners, 6 volunteers, 1 canine
Top 3 males were Gary Droze, (32:39) Chris O'kelley, (36:23) , Jonathan Kiros (38:18)
Top 3 females were Stella Lewis, (36:33) Clifton Lewis, (39:47) and Leah Kiros, (42:53).
Chris O'Kelley had a lucky pick of –4 to bump Gary Droze from first to second place.  Yes…it is rare, but it happens.
Thank you to volunteers, Sarah Lewis, Alyssa Moore, David Cox, with a nod to the long-suffering race directors who shall remain anonymous.
Complete results:
| | | | | |
| --- | --- | --- | --- | --- |
| Place | Name |   | Number Drawn | Final Place |
| 1 | Gary Droze |   | -4 | -3 |
| 2 | Chris O'kelley |   | -6 | -4 |
| 3 | Stella Lewis |   | 4 | 7 |
| 4 |  Jonathan Kiros |   | 8 | 12 |
| 5 | Clifton Lewis |   | 1 | 6 |
| 6 | Felton Wright |   | 16 | 22 |
| 7 | Geb Kiros |   | 0 | 7 |
| 8 | Trent Parsons |   | 3 | 11 |
| 9 |  Leah Kiros |   | 0 | 9 |
| 10 | Peg Griffin |   | -4 | 6 |
| 11 | Gene Opheim |   | -10 | 1 |
| 12 | Nancy Stedman |   | 9 | 21 |
| 13 | Thomas Biance |   | -3 | 10 |
| 14 | Judy Alexander |   | -3 | 11 |
| 15 | Bobby York |   | -4 | 11 |
| 16 | David Anderson |   | 13 | 29 |
| 17 | Grace Kennedy |   | 0 | 17 |
| 18 | Angie Milford |   | -12 | 6 |
| 19 | Camilla |   | 1 | 20 |
| 20 | Tsige Kiros |   | -3 | 17 |
| 21 | Dick Dowdy |   | -5 | 16 |
| 22 | John McCoy |   | 1 | 23 |
| 23 | David Cox | volunteer  | special rules | 22 |
| 24 | anonymous | race director | special rules | 22 |
| 25 | Diana Caldwell |   | 11 | 36 |
| 26 | anonymous | race director | special rules | Dead Last |
| 27 | Alyssa Moore | volunteer | special rules | 25 |
| 28 | Sarah Lewis | volunteer | special rules | 18 |
| 29 | Laura Parsons |   | -4 | 25 |
| 30 | Francee Laywell |   | 1 | 31 |
Race Directors and others - the application for the 2023 Grand Prix race circuit is out. A copy can be down loaded from this link. 2023 Grand Prix Application